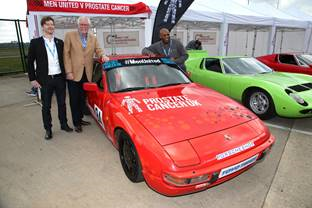 Goose Live Events, organisers of the Silverstone Classic, has announced a three-year charity partnership with Prostate Cancer UK.
This is the first time the  classic motor racing festival has aligned itself with an official charity partner and Prostate Cancer UK was chosen as a particularly appropriate cause for the event's target audience. The announcement was made at a special media preview event held at the Home of British Motorsport to launch this year's event.
Goose decided on a three-year period to ensure an effective and meaningful relationship which will embed the charity in people's minds as the official charity partner of the event, providing an ideal platform to raise awareness of prostate cancer which affects one in eight men in the UK.
Nick Wigley, CEO of Silverstone Classic organiser Goose Live Events admitted it was not an easy decision to choose a relevant charity as a large number of organisations presented strong submissions to be part of the world class event.
"After much deliberation, we are delighted to be partnering with Prostate Cancer UK. The charity already has close contact with many of the car clubs involved in the Classic and we hope that an association with our event will help accelerate the important work the charity does," commented Nick.
The selection process involved an evaluation of those charities who would have some synergy with the event and become part of its fabric whilst adding value to the event experience in a way that would be sympathetic to the event and its audience. A shortlist of four charities was agreed by the team at Goose and each charity was invited to discuss their charitable work and how the relationship with the Classic could make a difference to them.
"The strength of all these interviews was overwhelming and we were incredibly impressed, which made it a very difficult decision. In the end, we selected a charity which has a truly meaningful link to the event and to whom we feel we could make the biggest difference," added Nick.
Nick O'Donohue of Prostate Cancer UK also commented:
"Men love their motors and we're really excited to be teaming up with the Silverstone Classic. This partnership offers the va-va-voom we need to reach large numbers of car loving men and their families and raise awareness of this disease. Men can't afford to ignore what's going to be the UK's most common cancer by 2030.
"Ignoring prostate cancer won't beat it, but joining the fight will. We can stop it being a killer. We're looking forward to working with Goose Live Events to push the message that men need to know their risk of this disease. It's a race against the clock but with such support from partners, we believe prostate cancer can be stopped in its tracks within ten years if action is taken now."