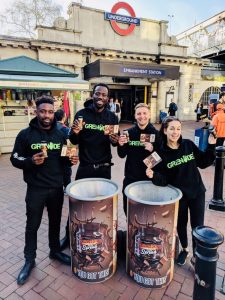 Grenade Sports Nutrition are partnering with iMP to promote a range of protein packed products through consumer sampling at key commuter times across the UK.
Starting with London and Manchester, Grenade branded iMP sampling teams have been deployed from 7am at high footfall tube stations across London and on commuter routes in Manchester city centre.
Distributing more than 50,000 product samples in a six day period, the Grenade protein shakes and new low sugar spreads are supported by a recipe booklet using Grenade products.
David Gibbons, Director, iMP comments "Working directly with the team at Grenade HQ has been a refreshing and unique experience. Their no-nonsense, 'let's get the product out there' attitude fits perfectly with iMP's approach when it comes to high volume, fast paced grab-and-go product sampling. Right on our wavelength."