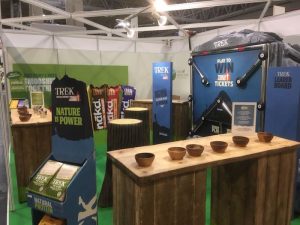 e2b, a leader in brand logistics, demonstrated its ability to deliver for multiple clients when it dismantled and re-built several exhibition stands for a number of major food and beverage brands, in under 12 hours, at this year's London Coffee Festival and Food & Drink Expo.
The major challenge for e2b's experienced team was the turnaround time between the two events.  Clients with a presence at both shows included: Dalton's, Deliciously Ella, Kind Snacks, Hippeas, Lemonaid and Natural Balance Foods to name but a few. e2b provided full logistical support for each of the brands exhibiting, from storing and maintaining, to installing, setting up and loading out of each of their exhibition stands.
With the London Coffee Festival drawing to a close on the evening of Sunday 15th April, and the opening morning of Food & Drink Expo on Monday 16th April, there was very little time to dismantle the stands and transport everything between London and Birmingham. To ensure that the clients were able to showcase their brands at both events, the e2b team worked through the night, finishing work at 5am.
Commenting on e2b's performance across the two events, global operations director, John Ford said: "Our ability to dismantle, load out and transport multiple exhibition stands in London and then unload and set them back up at the NEC in Birmingham, in under 12 hours, is exactly the sort of service that our clients expect from us. It's a testament to our highly organised, experienced and proficient teams that we were able to complete the task in plenty of time for the show opening on Monday morning. Feedback from our clients was extremely positive, with several comments on how impressive our teams were."
Offering unique event services, e2b has more than 95,000 sqm of warehousing space, where it stores and maintains marketing and promotional materials, along with sampling products and stock, for a whole host of major food and beverage brands.