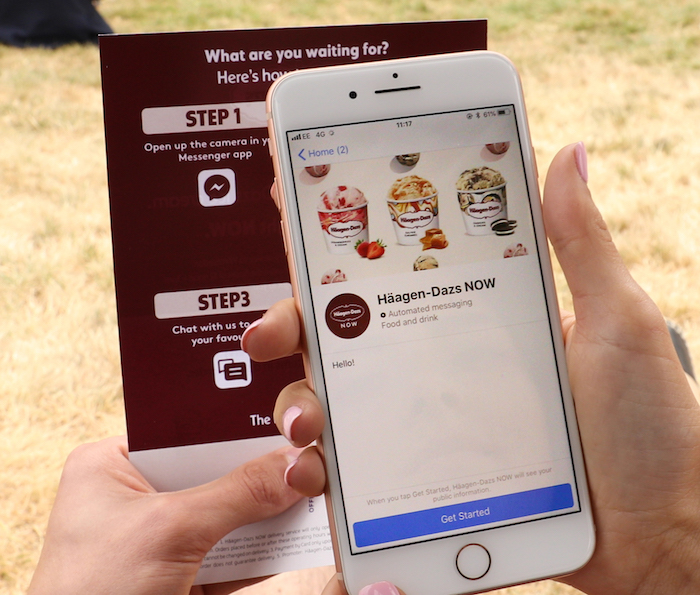 Häagen-Dazs is the first ice-cream brand to move into automated product delivery with its new mobile e-commerce technology 'Häagen-Dazs NOW'. The service enables ice-cream to be ordered and delivered into the hands of consumers when out-and-about by using an innovative combination of proven mobile technologies.  The brand trialed the service on Friday, 7 September 2018, offering people in Russell Square, London, a chance to order and enjoy its ice creams without having to leave their spot in the September sunshine.
Visitors to Russell Square were the first to try out the new e-commerce service, created by creative agency Space and developed by Kerve.  Through a chatbot conversation platform in Facebook Messenger to place the order, web-based geolocation APIs then pinpoints the exact location through the mobile browser, with swift real-time syncing of data through web sockets to provide a seamless mobile e-commerce solution.  The technology also enables Häagen-Dazs to know the exact delivery location, even if the consumer is not standing still, and the consumer can see how far away their ice cream is – all in real-time.
Samuel Horner, senior brand manager at Häagen-Dazs UK, says "'Häagen-Dazs NOW' is a first for the ice-cream category, tapping into the growing trend for geo-targeted services.  We're testing it to inform future consumer engagement plans, each of which aim to make every day extraordinary for our consumers. Who wouldn't want a delicious Häagen-Dazs ice cream delivered to their exact spot at a summer event?
David Atkinson, managing partner at Space, adds: "The future potential of geo-targeting is very exciting.  General Mills is an innovative business and it's a pleasure to be given the opportunity to create ground-breaking initiatives together. This activity provides evidence of our collective consumer-centricity and a desire to provide utility and advantage to our consumers."