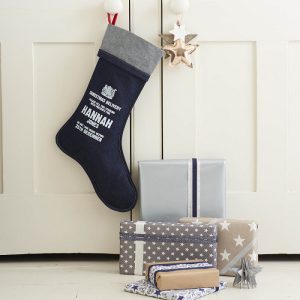 Shoppers wishing to get ahead of this year's festive shopping can head to Selfridges on London's Oxford Street, where they will find personalised gift company Harrow & Green, aided by a crew of elves provided by staffing specialists Blackjack Promotions, to offer them a helping hand.
Harrow & Green mainly sells through websites such as Notonthehighstreet.com, offering a range of customisable personalised products which includes Christmas stockings and sacks. However, last year, in the run-up to the festive period, it set up a special pop-up personalised gift boutique in Selfridges' Christmas Shop, with Blackjack's help.
Keen to get an early start, Harrow & Green is doing it again this year, with its pop-up set to open on September 4th. Blackjack has recruited and trained a team of four staff, who will be on hand to guide shoppers through the mysteries of Christmas wrapping and help them select personalised gifts for friends and family. The brand ambassadors, wearing Harrow & Green-branded aprons, will also make the bespoke items, which can carry shopper-selected messaging, including children's names and dates of birth.
Philip Taylor, who co-founded Harrow & Green with his wife Tanya, says: "Our Christmas pop-up in Selfridges offers the perfect opportunity for us to share our passion for all things beautiful. We're inspired by modern typography, old-style fonts, and the way text can be combined with original design to produce high quality, great-looking personalised Christmas gifts, stockings and sacks. We need intelligent, engaging staff who share our passion for the beautiful and who can articulate our vision and our brand values – and Blackjack has already shown it's more than capable of recruiting and training just the right people."
Fiona Tindall, Head of Domestic Retail at Blackjack Promotions, says: "Blackjack needs fully-trained brand ambassadors who understand the brand inside out, can operate the printing process and embody the Harrow & Green charm. Fundamentally, it's moving the relationship from being a purely transactional, product-based one to being an emotional, experiential one."
The Harrow & Green Christmas pop-up opens in Selfridges on London's Oxford Street from September 4th to December 24th, 2017.
Find out more about Blackjack Promotions here