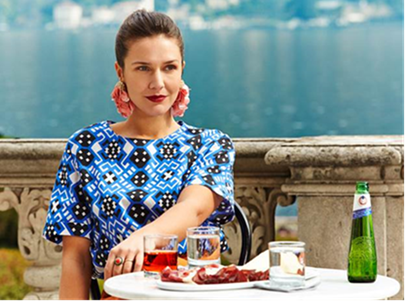 The House of Peroni Residency is bringing a taste of Italy to Shoreditch this Summer. Centred on the theme of 'for the love of Italy' (Amare l'Italia), the house will be a homage to Italy and the  ingredients unique to the country's rich landscape.The house will be open from May 19th to July 1st
World renowned chef, Francesco Mazzei (Chef Patron of Sartoria in Mayfair and previously of L'Anima, London) is the Master of Taste for the Residency, creating an expansive menu of indulgent Italian dishes. Open to all, guests will be able to enjoy handmade gelato, wood-fired pizza, freshly made pasta and a selection of Italian antipasti. For the first time The House of Peroni Residency will have a fully stocked Italian deli, selling Italian cured meats, cheeses, pasta and sauces to be consumed on site or to take home
An Italian version of the British brunch will be served every Saturday and Sunday between 11am and 3pm, accompanied by acoustic sounds from Italian-inspired bands and a delicious Peroni Nastro Azzurro infused citrus punch.
A pre-bookable private dining event will take place three evenings a week, where guests will be invited to sit together and enjoy an Italian feast, inspired by the family gatherings Francesco grew up with in the southern Italian region of Calabria.
Francesco commented, "The plethora of beautiful ingredients unique to Italy have long inspired me to create sumptuous menus inspired by my love of Italian Feasts. The ritual of family gatherings and local celebrations that are so integral to Italy's heritage will be celebrated this summer at The House of Peroni Residency and, as the Master of Taste, I am pleased to share the 'Mezzogiorno' style of enjoying life with our guests."
Simone Caporale returns to The House of Peroni for the second year running as the Master of Mixology. Inspired by his love of Italian ingredients and the passion he holds for the Italian way of life, Simone has created a menu of Peroni Nastro Azzurro infused drinks.
"I'm delighted to be returning as the Master of Mixology for The House of Peroni this year and I have enjoyed experimenting with some of Italy's freshest ingredients – drawing upon my love of classic Italian cocktails, playing with flavours balanced perfectly by Peroni Nastro Azzurro's subtle bitterness and signature crisp, dry finish. The latest infusions are inspired by the Italian way of life, the unique style and the importance of aperitivo."