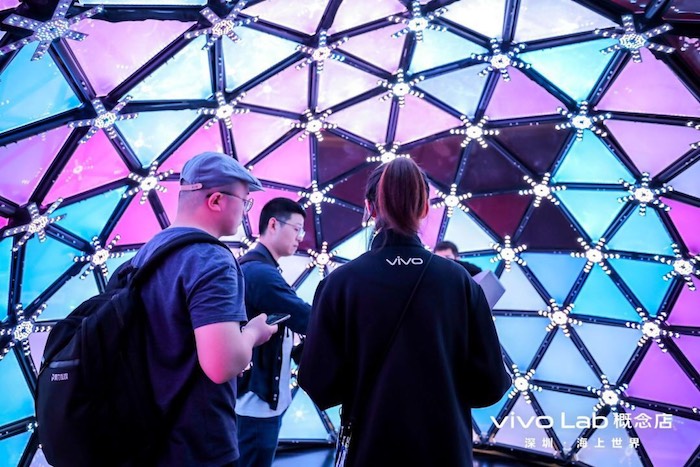 Global experience agency Imagination, has announced the opening of a new concept store experience – vivo Lab – in Shenzhen, China for Chinese smartphone brand vivo. The immersive experience, which is the first photography-oriented concept launched by a phone manufacturer, officially opened over the weekend.
Vivo, one of the world's largest smartphone brands with over 200 million users, began working with Imagination in late 2017 to create a landmark flagship store showcasing the brand's creative and technological strengths. Imagination was appointed by vivo to conceptualise, design and develop the experience-focused vivo Lab.
The experience epitomises the next generation of multi-purpose spaces offering more than product specification stories and tapping into a deeper, more connected level of communication and storytelling.
Using the art of photography as a leading inspiration, and combining with vivo's expertise in smartphone camera technology, Imagination created 10 customer touchpoints to enable visitors to interact with the brand.
They include:
Your Aura – an interactive wall that uses sensors to detect clothing colour, proximity and movement to mirror people as they arrive
Take Me Back – an interactive installation which uses innovative post-processing technology to create a series of 'historic' selfies, which celebrate the development of photography by compositing the guest into backdrops of the past, including the effects of 9 historic camera models stretching from Pinhole to Polaroid to Smartphones and everything in-between
Take Me There – a dome covered with diffused LEDs that perfectly maps natural lighting in order to demonstrate the drastic effects lighting conditions can have on photos
Additionally, the store features an audio touchpoint called Feel the Sound, an interactive sculpture that is controlled by two vivohandsets and designed to push the limits of what smartphone audio technology is currently capable of.
Sam McMorran, group creative director, Imagination China, commented: "We are thrilled to have delivered this work and be part of an exciting next step into the future for the vivo brand. The extraordinary store experience allows every visitor to see something unique, find a different perspective, and understand the way that colour, light and time intertwine with their own perspective to create unique images. As well as delivering on the brief, we are confident that the impact of the store will also create a deeper connection between visitors and the vivo brand, by using the power of experience to change behaviour and turn users into brand advocates."
John Steere, managing director, Imagination China, added: "China is leading the way when it comes to multi-purpose spaces that blend brand immersion, product engagement and sales. So we are truly excited to be able to showcase the power of experience to transform customer engagement through our work with vivo"