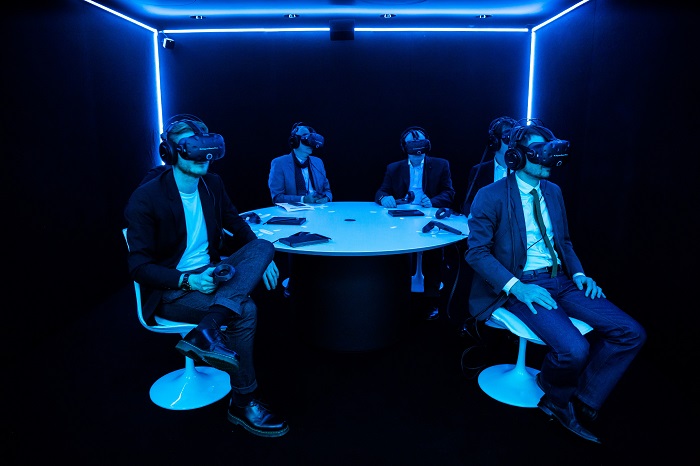 Jaguar working with Imagination and Rewind conceived and delivered a first-of-its-kind global social virtual reality experience at this year's LA Auto Show. Supported by HTC and Dell, the launch showcased the new, all electric I-PACE Concept car.
"For the first time in history, a global automotive brand has used social VR to launch their latest car," said Ross Wheeler, head of automotive, Imagination. "Not only has Jaguar showcased its car of the future, by choosing to use Social VR technology in this way, they have redefined the product launch, setting the benchmark for any consumer brand experience, in any sector, for years to come."
Delivered through the HTC Vive Business Edition headsets and powered by Dell Precision workstations, 66 guests in Los Angeles and London, simultaneously experienced presenters Ian Callum, director of design for Jaguar Cars and Ian Hoban, Jaguar Vehicle Line Director, appearing live within the VR world to reveal the new car.  
After previewing the exterior of the vehicle guests were transported into the driver's seat for an intimate view of the Jaguar I-PACE Concept's unique interior design, discovering hidden details and features all whilst having a 360° view of Venice Beach.  
Sol Rogers, CEO/Founder of Rewind said, "Pushing the boundary of what's technically possible and redefining an entire industry was exhilarating. The collaboration with Imagination allowed us to completely re-think the product launch. This is the first time virtual reality has been used to unite geographically separate groups in the largest social VR and 'multiverse' automotive launch."
The launch event has been a staple for brands for hundreds of years, gathering people to witness the first view of a new product and relying on their endorsement to spread the word, supported by advertising, direct mail and PR.  By taking this event into a virtual reality the boundaries have changed for what can be launched and to whom.