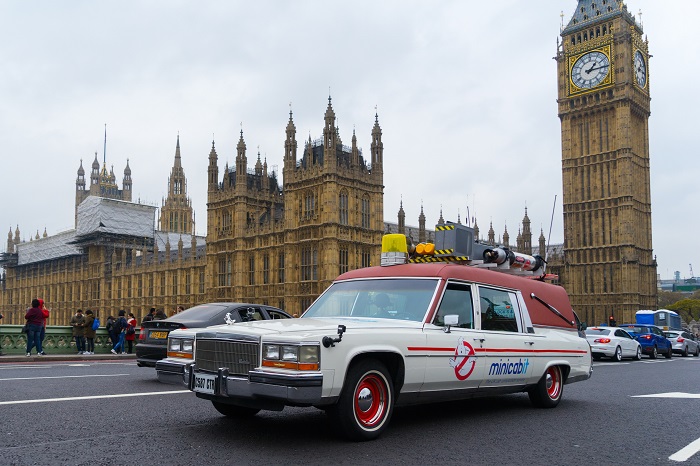 Brand & Deliver has secured four high profile brand partners: Dunkin' Donuts, minicabit, Northern Rail and South West Trains, to support the release of Ghostbusters on DVD & Blu-ray on 21st November, for client Sony Pictures Home Entertainment.
Thirty years after the original supernatural comedy franchise took the world by storm, Ghostbusters returned to save the world with a cast of new characters.
The partnership campaign, running until the end of November, sees Ghostbusters themed donuts at participating Dunkin' Donuts restaurants in the UK alongside a point-of-sale promotion and a competition on digital channels inviting customers to guess the flavour of the Ghostbusters Slimer Donut.
Northern Rail is offering a holiday to New York through on station posters alongside website and social media promotion. A bespoke competition microsite will be promoted on South West Trains' digital channels, including the on-train and on-station wifi landing pages, giving customers the chance to win a Sony TV, home theatre system and Ghostbusters box sets.
In an experiential activation for Halloween, customers of minicabit were offered the chance to be picked up in the Ghostbusters Ecto-1 vehicle in place of their usual cab booking and taken to a famous Halloween-themed London attraction.  The whole experience was captured and content shared on digital and social channels. A filmed 360 video from the car passenger seat as it travelled through London will be seeded on YouTube.
Richard Barnes, partnerships director at entertainment marketing specialists Brand & Deliver, said: "Ghostbusters is an iconic franchise with multi-generational appeal. These brands have tapped into the movie's feel good factor with memorable partnerships that will ensure the DVD is on every Christmas wish list."
John Biggin, head of PR & promotions at Sony Pictures Home Entertainment, said: "These partnerships are vast in scale, geographical reach and fun factor, giving us a powerful platform to promote the home entertainment release across multiple touchpoints."