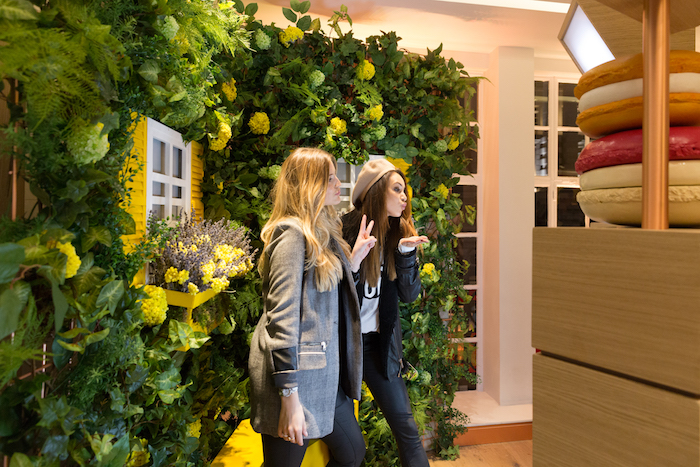 For the official launch of their first UK Flagship store – L'Occitane invited beauty editors, industry influencers and special guests to experience their new multi-sensory retail space on Regent Street, London.
Designed by UXUS, the concept store was created with the vision of producing unique and luxurious experiences that allow customers to explore textures, tastes, sounds, sights, and fragrances, whilst celebrating the brand's provenance.
At 6,450ft, the store is the company's largest in the world, spread across two floors and is also home to a Pierre Herme cafe and macaron bar.
As a flagship looking to deliver many "firsts" within the retail space, L'Occitane commissioned The Flash Pack to create the UK's first permanent multi-camera photo booth installation, the L'Occitane Selfie-Studio.
Working with the brand from an early stage in the store's development enabled The Flash Pack to truly integrate the photobooth into the retail experience.
Using complementary materials to tie in with the store, the 'Selfie Studio' captures eye-catching 3D content of customers against a Provence-inspired backdrop made up of the brand's iconic ingredients and foliage. The backdrop will be updated seasonally to reflect the brand's long-standing connection with nature.
Activated by a built-in touch screen, guests can pose in the space then immediately see the results with bespoke 3D graphics and L'Occitane branding. Guests are able to instantly share their content on their favourite social channels via the touch screen, along with receiving a printed memento from the experience.
This free experience is available to use during store hours and is located on the 1st floor of L'Occitane Regent Street.
Tyson Benton, co-founder of The Flash Pack comments, "Our clients look to us to create unique and inspiring experiences for their customers. We loved the challenge of creating an intuitive and unmanned multi-camera booth that had the same quality of experience and impact as our live events – the installation is a testament to our in-house dev and creative capabilities."