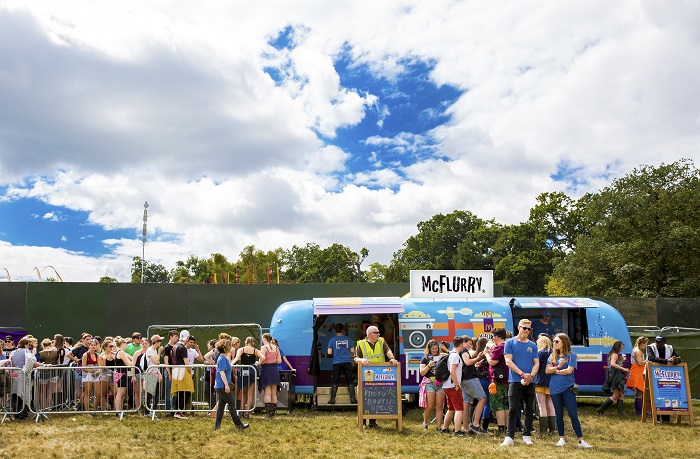 McDonald's UK has launched 75 days of fun-filled free experiences at restaurants, festivals and events across the UK.
The tour kicked off with model and actress, Jorgie Porter, helping Londoners cool off with a McFlurry from the unique van which is touring the UK delivering treats to festival-goers, sun-worshippers and rain-dodgers.  With a photobooth on board to capture the moment.  Brits are being given the power to 'flock to unlock' the McFlurry Van on Twitter for the opportunity to redirect it to whatever event they are enjoying this summer – from weddings to BBQs to summer parties.
McDonald's has planned a number of surprise moments throughout June and July designed to give their customers once-in-a-lifetime experiences in restaurant. The 'good times squad' are bringing the 'good times' atmosphere to life in restaurants and cities across the UK with instant win prizes such as festival and football tickets and free experiences including a giant McFlurry ball pit.
McDonald's is encouraging people to enjoy a summer of sport as the Euro 2016 and the FA Community Shield ticket giveaways continues.
Jorgie Porter said: "Summer is my favourite time of the year! I'm really excited to be a part of the many surprises McDonald's Good Times campaign will bring, helping people to savour those special summer moments. Catching up with friends and family over a McFlurry is definitely one of mine, I really could have done with one in the Jungle!"
"Regardless of the weather, the summer is worth celebrating, which is why I am delighted we will be giving our customers as many good times as possible with exclusive events in-store, tickets to the summer's hottest events and free fun family and football activities in parks and cities across the country with our good times squad."
McDonald's has joined forces with Bauer Media, to share the good times with millions of radio listeners across the UK. In store, online and on air McDonald's will giveaway more than 500 tickets to the UK's top music events including to some of the UK's most popular festivals including T in the Park (Scotland), Key 103 Summer Live (Manchester), V Festival (Chelmsford) and Fusion (Liverpool).
In a multi-platform three-month campaign, McDonald's has partnered with Bauer Media's four major radio brands – Absolute Radio, Magic, KISS and Bauer City Network to promote how McDonald's will be bringing customers good times this summer. The campaign activity, planned by OMD UK, will run across all four networks and include on-air trails and creative pages on each brand's websites to promote competitions to win tickets to great festivals across the summer break.
Abby Carvosso, Group MD, Advertising, Bauer Media said: "This campaign is a standout example of how truly influential brands and deep audience insight can enable commercial partners to align themselves with audience passion points. Working across four of our flagship brands, we have a significant targeted audience of music and festival lovers – a valuable group who we can allow brands to reach via innovative solutions."
Fuse Sport + Entertainment conceptualised the activation for McDonalds – from the design and illustrations to splitting the airstream into servery and photobooth. Noonah was enlisted to provide the photo booth mirror technology, which the Fuse Sport + Entertainment build team integrated into the airstream.