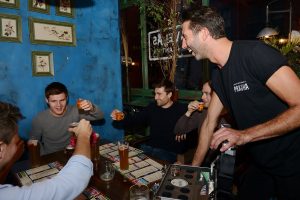 Pravha has enlisted  TRO to deliver a tactical on-trade campaign, which comprises innovative bar staff training and in outlet consumer engagement.
The extensive programme sees a dedicated team of influencers visit key on-trade outlets across the UK, and has been devised to build buzz and awareness around the product within outlets.
Aiming to educate and inspire staff about Pravha's taste, story and heritage, the training is conducted through a fun, interactive game using an innovative augmented reality app – which was created in-house by TRO's creative technology department, TROi.
As part of the session with each outlet, the influencer also interacts with consumers, offering free samples of Pravha and a game entitled #PraguePrices, whereby they have a chance to win a pint of Pravha for just 70p – the average price of a pint in Prague.
Andrew Orr, client services director at TRO commented: "We're thrilled to be working with Molson Coors' premium beer portfolio, delivering this immersive experience for Pravha in a fun and memorable way. Education is paramount when it comes to achieving brand loyalty, and melding creative tech with knowledgeable influencers has proved a successful storytelling method to communicate the brand's unique proposition."
One of Pravha's key outlets, Tib Street Tavern in Manchester, also commented: "The Pravha Influencer campaign really helped to educate our staff. The tasting evenings in particular have been great, and really beneficial to how my team understand the beers they are selling. Since launching the campaign, we've seen a strong increase in our Pravha sales. Many of our customers had not tried Pravha before, and after sampling it during the campaign have since gone on to purchase it again. The product knowledge aspect of the campaign also went down well with our customers, who were able to learn more about the heritage of the beer."
The nationwide activity began in August and will continue to run into the new year.