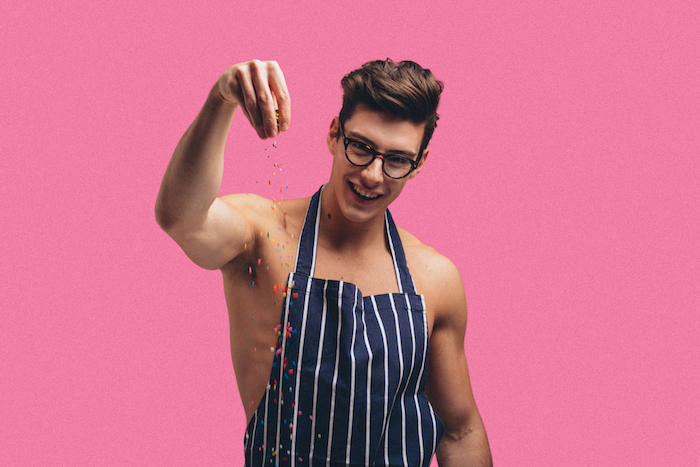 Mrs Crimble's, the gluten-free brand owned by Wessanen UK, has announced a partnership with digital influencer, the Topless Baker, on a social media campaign that aims to introduce more cake lovers to free-from bakery.
Through his Topless Baker social channels, Matt Adlard – a self-taught baker – shares his  homemade creations with his many  followers.
During the year-long partnership the Topless Baker will create new and indulgent recipes using Mrs Crimble's  baked treats including the brand's best-selling Choc Macaroons.
Engaging video content on how to make the new Mrs Crimble's recipes will be shared on the Topless Baker's Instagram Stories with a 'swipe up' option to take users to Mrs Crimble's website. Pictures of the finished cakes will then be added to his main Instagram profile reaching close to half-a-million followers.
The Topless Baker will also host a Baking Masterclass with Mrs Crimbles where a select number of fans will learn how to create the bakes with the Topless Baker using Mrs Crimbles products. The Topless Baker will post about the event in the lead up to and on the day, highlighting and celebrating the partnership.
Mrs Crimble's Brand Controller at Wessanen UK, Caroline Mitchell, says: "It's amazing to be working with someone like the Topless Baker – he's the perfect online partner for Mrs Crimble's. His youthful exuberance, baking talent and, of course, signature style is a great match for the fun-loving, cheeky personality of the Mrs Crimble's character
"Everything Mrs Crimble's does is full of joy, gluten free and pleasing on the eye. Free-from shouldn't ever look or taste bland, which is what we're keen to show through the Topless Baker. We want to harness the reach of the Topless Baker's loyal and engaged followers who appreciate great-tasting cake and introduce them to our delicious gluten-free products. While Mrs Crimble's is ideal for those looking to avoid gluten for health reasons, this partnership will help to build awareness beyond our core consumers and appeal more widely to cake lovers."
The well-aligned influencer activity will feed into Mrs Crimble's own digital marketing; Topless Baker's recipes will be shared on the website and through the email newsletter to Crimble's Club members.