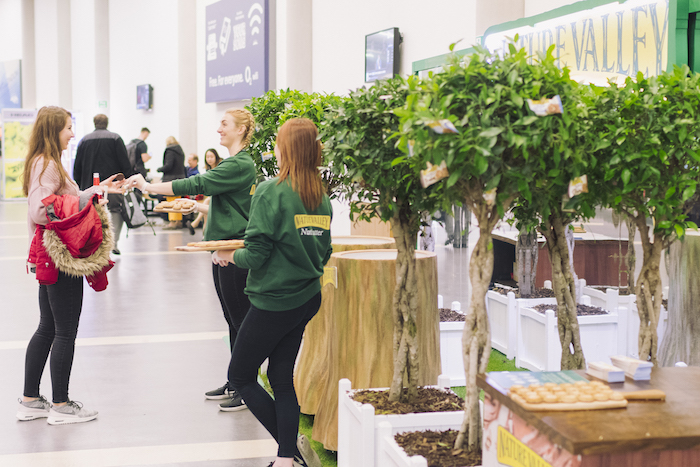 Space is launching an integrated social and experiential campaign promoting Nature Valley's recently introduced 'Nut Butter Cups' and 'Nut Butter Cocoa Hazelnut Biscuits'.
The activation is set to bring the spirit of the great outdoors into one of the world's biggest indoor arenas. Visitors to the Fan Zone activation will be able to sample the new Nature Valley products whilst surrounded by rows of living trees.
The campaign also features a number of engaging social posts, designed to raise awareness of the new products and highlight the natural ingredients.  Developed for Instagram and Facebook, the creative executions showcase the  ingredients in a truly interactive way, showing cocoa and hazelnuts bursting through the viewers' screens.
Coupons will also be given out to be redeemed against any Nut Butter product to encourage further trial. These coupons can be redeemed at all grocery retailers.
The activation at the Nitto ATP Finals is the 'wrap up' of Nature Valley's tennis activity for 2018. It comes on the back of a successful summer campaign which saw the brand work with UK women's number 1 Johanna Konta to proactively encourage more people to play tennis. This summer Nature Valley was involved in the LTA's Great British Tennis Weekend and is proud to have contributed to the success of the programme with around 11,000 attendees across the 450 events. The brand also achieved the highest ever market share (11.4%) on Nature Valley.
Kat Jones, head of marketing ice cream & snacking at General Mills, says "This year, Nature Valley has been all about encouraging people to get out there and play tennis, so leveraging our sponsorship of the ATP World Tour Finals makes perfect sense. The Nut Butter Cups and Nut Butter Cocoa Hazelnut Biscuits are created using wholly natural ingredients, and we needed a campaign that would communicate their natural credentials and the brand's broader tie up with tennis and the great outdoors."
David Atkinson, managing partner at Space, adds; "Our ongoing journey to get more people outdoors playing tennis gathers pace and continues momentum at the O2. The O2 enables us to juxtapose the great outdoors and the world's greatest indoor venue to capitalise on the excitement of the world's best men competing amongst each other, driving awareness of the sport to be sustained into 2019.
This activation has also been supported with a television advert and a VoD plan which has been led by Mindshare.