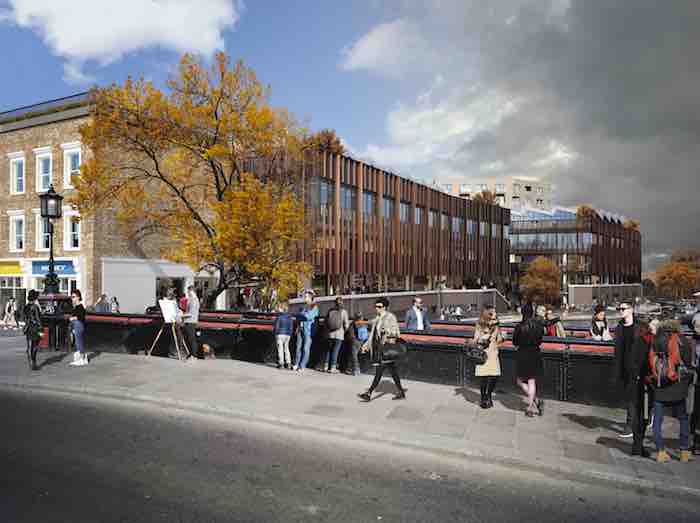 LabTech, the property investment and technology company that owns Camden Markets, has unveiled its vision for Hawley Wharf Camden, its latest mixed-scheme venture that is scheduled to open by summer 2019.  The announcement coincides with the appointment of Colliers International to lead the retail, food and drink, and leisure leasing for the development.
At 580,000 sq ft, the canal-side development is set to be a major attraction in North London, serving Camden's 30 million visitors a year, equivalent to around 80,000 visitors every day.  Bordered by Chalk Farm Road to the west and Regent's Canal to the east, with a prime frontage on Camden High Street, Hawley Wharf Camden will revitalise the site's railway arches, which sit alongside new buildings influenced by the area's existing historic warehouses.  The development will be home to 150 independent and branded stores, over 60 new places to eat, 195 apartments, and 60,000 sq ft of Labs co-working space.
Hawley Wharf Camden's 30 arches will provide space for select UK and international brands and artisan producers.  The development will also include the largest farmer's market in North London, a 12,000 sq ft new fitness concept, unique canal-view rooftop bars and restaurants, and 100 food stalls. A 24,000 sq ft triple height basement will provide an extraordinary opportunity for a new entertainment and leisure space.  The various elements will be integrated with one another through intelligent design and LabTech's technology platform, functioning as an eco-system where people can visit, work, live and socialise.  The development has been designed to grow Camden's status as a shopping, dining and leisure destination, whilst respecting its much-loved heritage.
Commercial director of LabTech, Tomer Bercoviz, said: "We are very proud to be the first single owner of several key sites in Camden.  With this ownership comes a clear vision for Hawley Wharf and our other developments – to retain the character of Camden Town while improving the offering for all, especially those who come to shop, explore, eat and drink as well as live and work.
"Hawley Wharf Camden is vital to this mix because its canal-side space draws on Camden's rich heritage as one of London's most popular tourist destinations, whilst providing a distinct offer and atmosphere of its own. It is about both shaping the future for Camden Town and respecting its past.  We look forward to progressing the development and continuing our work with the local council to deliver this for our retailers, visitors and local community."
Bobby Blake of Colliers International, added: "Hawley Wharf Camden provides a destination of choice in the capital for visitors seeking a really distinctive experience. The history of Camden adds a layer of unique culture that people will not find anywhere else in London.
"Hawley Wharf Camden presents the opportunity for retailers, food and entertainment, and leisure operators to find a new way to reach their customers.  We can provide spaces for independent retailers in an established London location, and we are committed to making sure that Hawley Wharf Camden will be a genuine ecosystem."
Hawley Wharf Camden will create over 1,000 jobs to boost the local economy, while visitor numbers to Camden are expected to increase to 50 million per year by 2020.