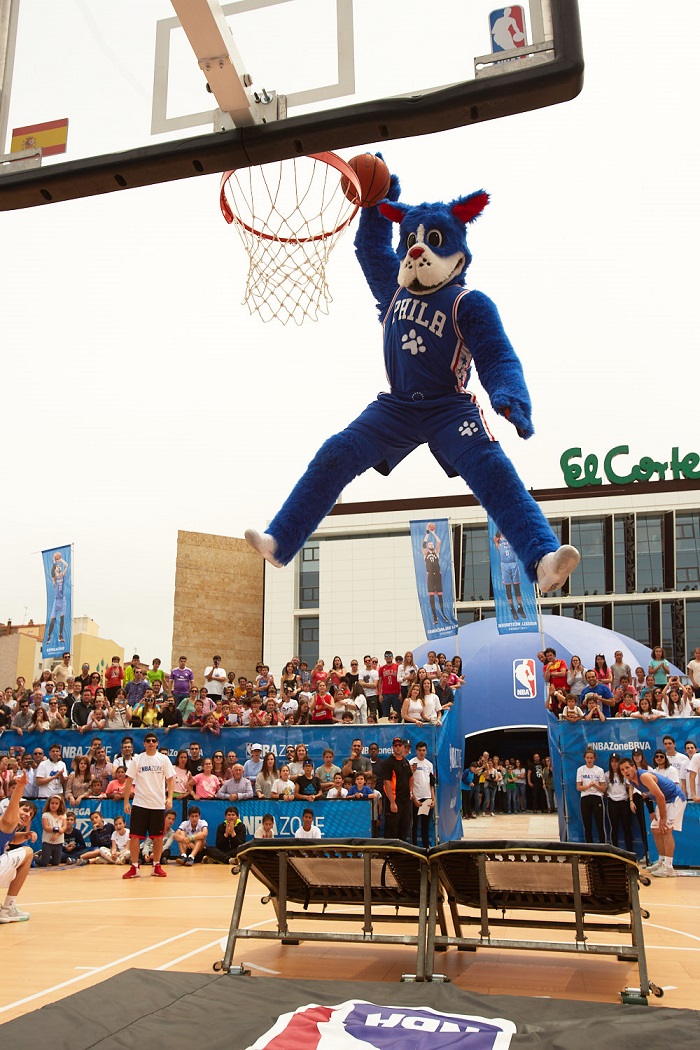 NBA has launched its latest iteration of its European fan experiences 'NBA Zone', in partnership with leading Spanish bank BBVA. Developed and delivered by Wasserman's Experience division for a second year, the activity features a specially created court and courtside experience, including three NBA and BBVA branded digitally-immersive domes, NBA talent, an authentic NBA wooden court and an interactive 360-degree experience.
The activity is part of the NBA's grassroots initiative, aimed at boosting brand awareness and fan engagement within Spain. The NBA and Wasserman also have plans to roll the experience out across other markets within EMEA.
The interactive experience will tour four locations in Spain, including Salamanca, San Sebastian, Alicante, and Córdoba, until 25th June. It is estimated that over 6,000 fans will attend each experience.
To bring the game to life for Spanish audiences, Wasserman has built an authentic wooden court for fans to play 3 point competitions, showdowns and one-on-one games. The court will also feature appearances from current NBA talent such as CJ Mccollum, Anderson Varejão, Harrison Barnes and authentic team mascots.
Alongside the court, the activity features a three-dome experience that immerses audiences into different parts of the sport. The NBA Arena dome immerses fans in a 3-screen projection experience, showing off the best moments of the NBA. The Locker Room dome provides fans with stats, photos and history of both current and past players. The Digital Dome gives fans the chance to create shareable content, including the opportunity to film themselves in a 360 degree slow motion video from the centre circle of an NBA court.
Henry Utku at NBA commented: "Basketball is a global sport, and expanding and building our fanbase around the world continues to be a key focus for the NBA. The NBA Zone experience is a great platform to achieve this as the experience immerses audiences in an authentic NBA environment, creating an experience that fans will want to share with friends online."
Andrew Fraser, director experience at Wasserman, added: "The NBA Zone concept is designed to deliver an engaging and authentic NBA experience to fans across Spain. Using the latest advances in technology, we've brought to life the experience to show people what it really feels like to be a part of the NBA community, capturing the excitement of the game for audiences old and new."