Over two thirds of British gents are re-styling their facial hair monthly and three quarters (75%) of bearded males rank themselves an impressive 7.5 out of 10 for attract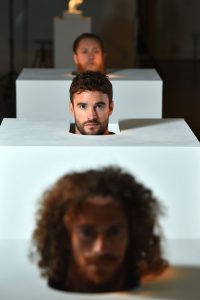 iveness. So, to celebrate the country's eclectic designs and confidence boosting beards, Panasonic Grooming has launched an art gallery dedicated to the good, the bad and the hairy…
The Tash Modern popped up for one day only in one of the UK's hairiest hang-outs, Shoreditch, and opened its doors for visitors to explore bearded, moustached and stubbled portraits of the nation, captured solely for the gallery.
From immersive installations to complimentary barbers and even human art, the Tash Modern offered a fuzzy experience like no other, something modern day men are particularly interested in, according to research by Panasonic Grooming.
Findings also highlight that over a third of men perceive increased facial hair as a sign of manliness (36%) and that the first things modern men are noticing on other guys aren't expensive watches or flash cars, but their partner (24%) and facial hair (23%).