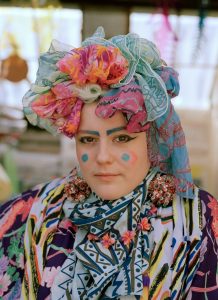 Finsbury Avenue Square, Broadgate has become home to a pop-up mini market hosted by up-and-coming local London designers and artists. The private view was held on Tuesday 4th of October and open to the public from Wednesday. This is the second part of the programme that we have been commissioned to create as part of Broadgate's 'Shaped By Design' season.
At the helm of the project is internationally lauded product designer Bethan Laura Wood, who has been brought on board to ensure that the market will celebrate the unrivalled wealth of independent talent in the East London artistic community. Bethan was awarded the Swarovski Emerging Talent Award in 2016.
At the Mini Maker's Market visitors can explore a unique mix of bespoke pop-up stalls and get involved in workshops whilst discovering the talented names that are likely to transform the worlds of interiors, fashion and art over the next decade.
Exhibitors include:
Kim Thome- London based Norwegian designer making objects, spaces and installations
Beth Postle- London based print and textiles designer
Tino Seubert- London based product, furniture & spatial designer
Harry Evans- London based designer selling T-shirts and small accessories
Silo Studio-  London based design studio formed by Attua Aparicio and Oscar Wanless, experimenting with materials and processes to find new ways of making things
The Mini Maker's Market is open from 4th-7th October from 11-6 pm