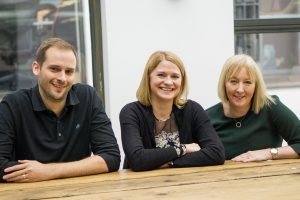 RPM has appointed three new board members to aid the agency's plans for future growth across all core capabilities.
Gillian Ward has been promoted to board director people, alongside Rosa Chapman as board director client service and John Viccars as board director strategy. The promotions reflect RPM's key areas of focus – people, thinking, creative and clients.
The new board members will play an important role in executing RPM's three-year plan, with the aim of providing tangible value to clients; part of which involves focusing on how better brand experiences are measured. With 32% of RPM's work being global, board members will also be focusing on increasing this revenue year-on-year to gain more worldwide recognition as well as financial growth.
Ward joined RPM at the start of 2016. She has over 20 years' experience working in HR, 13 of which she spent at Accenture. In her former role at RPM as Senior HR Manager, Ward has been integral to shaping the future of talent at RPM, including attracting and retaining the best people in the industry and ensuring that employees have the best years of their careers at RPM.
Chapman joined the RPM account team in 2007. She has worked across a diverse range of clients and sectors, being promoted to Business Director in 2015 before joining the board. Chapman has a huge passion for making brands culturally relevant and was instrumental in the development of RPM's experience defined brands offering, which helps brands define their purpose alongside how their beliefs and products should be experienced in the world.
Viccars joined RPM in 2012 to lead the enhanced shopper experience agenda as a Senior Strategist, fulfilling RPM's belief that when people shop they are simply looking for the best possible experience. He was promoted to Head of Strategy in 2015 to utilise his broader integrated agency experience and develop RPM's strategic offering. Viccars started his career as a global research consultant, defining how to alter shopper and consumer behaviours to the benefit of brands from ideation to measurement.
Dom Robertson, Managing Director, RPM, said: "We have an ambitious and exciting three-year plan, building on our core business offering, as well as expanding into new markets and territories. A key part of fulfilling that ambition is ensuring we have the right board in place.
As an agency, we are evolving the way we work to be more accountable, more agile and more entrepreneurial. It's fantastic to have Rosa and John join the board, bringing their own areas of expertise with them. As we continue to evolve and invest our core competencies and future-proof our business, we will never lose sight of the fact that we are a people-led business. To that end, we feel it is vital that we have Gillian as a member of the board as well."
The appointments follow RPM's recent appearance in City AM's 'The Leap 100' list, identifying it as one of the most exciting, fast-growing companies in the UK.