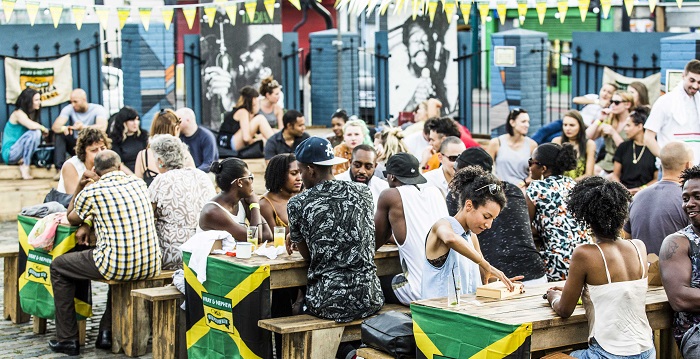 Script and Produce UK have been appointed to create the 'Wray's Rum Tings' series this summer. The events are a celebration of Jamaica, inspired by Wray & Nephew's rich Jamaican heritage, roots and its influence on UK culture. Script is a music and content agency and Produce UK is collaborating with them to provide specialist event production support.
On 6th August 2016, the first Wray's Jerk Fest event will take place on the rooftop of the Bussey Building in South London. Six of London's best jerk chefs will battle it out, with public votes crowning the King or Queen of Jerk. Music will be provided by King Tubby's, Trevor Sax, King Yoof, Adam Prescott and many more.
Wray's Jerk Fest will offer a whole host of games for attendees, from traditional dominoes on Wray's own tables, to the Free Pour Challenge with prizes for guests that can pour a perfect 25ml measure. The Reggae Rum Punch Relay Race challenge pits teams of four against each other to try and collectively make a Reggae Rum Punch faster than the Jamaican 4x100m relay team's world record (38 seconds). Winners of the challenges will receive prizes, including limited edition t-shirts, Wray & Nephew tin cups, and domino sets. A  free screening of the classic Jamaican film "The Harder They Come" will commence at the rooftop cinema at sunset.
The second Wray's Rum Tings event will take place in Birmingham on 20 August 2016, at the Rainbow Venues. The unique day party on the Terrace will be a celebration straight from the yard, with music, food, games and more. The line up includes the legendary Goldie playing an exclusive reggae set with MC LowQui, Iration Steppas, a mammoth back-to-back session with legendary selectors Earl Gateshead (Trojan Sound System) and Don Letts, plus local favourites too.
Catherine Borowski, managing director of Produce UK said,
"We're delighted to be collaborating with our friends at Script. They are a brilliant, like-minded, creative business and combined with our skills as artistic event makers we're looking forward to making Wray's Rum Tings a huge success."
Jonathan Shakhovskoy at Script said:
"We're now in our third year of running the Wray & Nephew summer activity and it's a huge pleasure to have the Produce UK team involved to help us scale up. Keeping the activity authentic and credible is our highest priority and their team have a natural understanding of where the line is. Together we're looking forward to making August all about Wray."