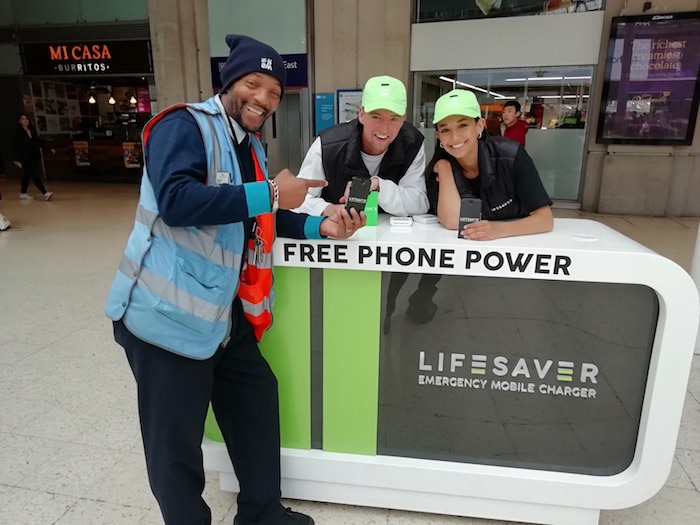 Network Rail have joined forces with Lifesaver Power, a hire and return mobile power bank service hailed as the 'future of energy on the move', to provide free power on the go to commuters at the UK's busiest station
Network Rail's new partnership with eco-energy-provider, Lifesaver, is delivering clean, green mobile power to station passengers during a four week trial (May 20th – June 16th).
With Lifesaver's mobile battery packs, passengers will be able to charge up via their commute – swapping used power banks for ones that are fully charged whenever needed throughout the trial period – giving them unlimited mobile power on the go. Power banks will be available from a Lifesaver Power kiosk, which will be outside Marks & Spencer in Waterloo station. There will be a £15 rental deposit, which will be fully refundable until the 16th of June.
Lifesaver shares power in a sustainable way, empowering people whilst protecting the planet. They offer a convenient and sustainable solution to the mobile power problem – providing a service that will keep Network Rail passengers connected and online.
Archie Wilkinson, CEO of Lifesaver Power comments: "This relationship is brilliant. Commuters continuously need mobile power and teaming up with Network Rail to trial this service at Waterloo is a fantastic opportunity for everyone.
"Looking after our planet whilst empowering people simultaneously makes perfect sense. We are excited about the journey ahead to inspire people to share power, and think differently about the way they consume energy."
Cem Davis, London Waterloo station manager for Network Rail, said: "We're really excited to be partnering with Lifesaver and hope this initiative will be a big hit with our passengers.
"This is another example of how we are putting passengers first to provide a better experience for those travelling to and from Waterloo.
"Sustainability is also a key part of our ethos, especially when looking toward future development, so we are thrilled that it's renewable, green energy we are able to provide."