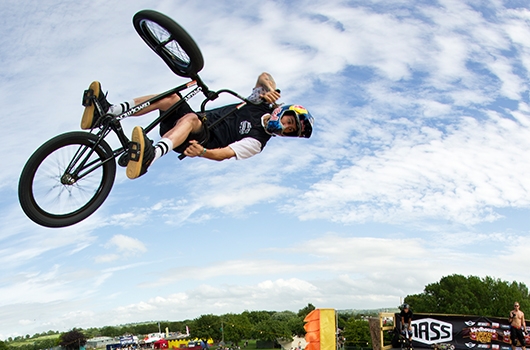 Nass Festival has strengthened its bond with the world of BMX by hosting the BMX World Championships, as sanctioned by the International BMX Freestyle Federation.  Chaired by Mat Hoffman, the iBMXff have recognised the progression of the contest and riders are bringing the BMX World Championships back to the UK, for the first time since 1988.
Nass festival revellers will witness the best riders across all BMX disciplines and the crowning of the new BMX world champion.  As well as this, Nass festival will be the home of  the BMX Amateur World Champions, meaning that the best Amateurs can show their worth on an international stage.
So far, confirmed riders include; Logan Martin, Daniel Dhers, Daniel Sandoval, Mat Hoffman, Mark Webb, Alex Coleborn, Simon Tabron, Coco Zurita, Brandon Loupos.
In addition to a line-up featuring headliners Andy C, Jurassic 5 and Knife party, Nass goers can enjoy  international pro skate, street art and a new onsite pub, The Truck & Bearing.