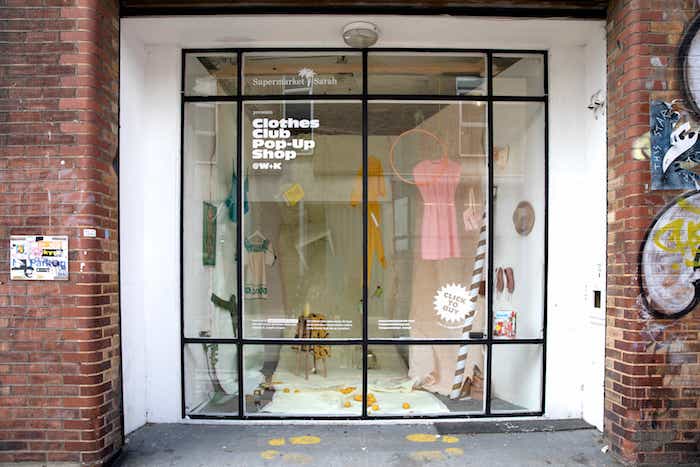 Wieden+Kennedy London has teamed up with Supermarket Sarah and The Clothes Club to launch an interactive shoppable window to raise funds for East London's St Joseph's Hospice.
Supermarket Sarah, who has created shoppable windows for the likes of Selfridges, John Lewis, Monki and Topshop, has unveiled a specially curated window, featuring public donations, items sourced from second hand vintage shops and pieces from The Clothes Club clothes swap, which took place at W+K London on April 24. Everything featured in the window is available to buy from www.supermarketsarah.com, where shoppers will also be able to find out more about the stories behind the items. All proceeds will go to the wonderful St Joseph's Hospice, which cares for and supports people with serious illnesses.
The public-facing Hanbury Street window is now live until May 19 and will also evolve over the coming days as clothes are donated via the W+K reception.
Supermarket Sarah said: "I'm delighted to have been invited by Wieden+Kennedy London to create a window display for The Clothes Club and for such a great cause. I love the idea of clothes having a story and breathing new life into old clothes and I wanted to communicate this.
"Swathes of painted canvas drape down from the three walls behind the window to create a sculptural backdrop of peachy pink, pastel yellow and minty green while colour matching clothes are suspended from the ceiling. A suspended chair and other props make up the backdrop to create a feeling of the clothes having a life of their own and flying in the air. The feeling is of the excitement of spring/summer on its way. Thank you for all the donations! Brands featured include New Look TK Maxx and Zara."
Emily De Groot, founder of The Clothes Club, said: "It's great to collaborate with Supermarket Sarah and Wieden+Kennedy London on their window to help show that clothes don't have to come at the cost of people or the planet. We're making sure items find a new home through our swaps and avoid landfill by partnering with TRAID."