Harriet Cramer and Frank Wainwright overview what the brands were hatching at Goodwood and Silverstone this year. A companion piece, together with client interviews will appear in print in our Autumn issue.
Goodwood
Goodwood Festival of Speed (FOS) is an event that keeps moving ahead and broadening its appeal. Whilst the setting is one steeped in motor racing heritage, the event itself has a reach and appeal that many brands are naturally drawn to – a busy rain-or-shine event in the South of England with an audience that predefines itself by the box office costs and likelihood of car ownership as one with a disposable income.
No wonder MasterCard heads a list of brand supporters that are keen to associate with these consumer spenders.
MasterCard, Big Group and Kru Live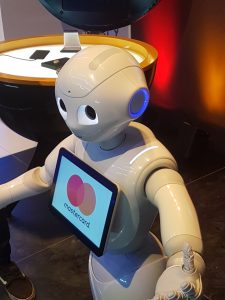 MasterCard is two years into an four year partnership with Goodwood as the first headline sponsor of the Festival, Preferred Payment Partner at the Goodwood Estate and the FOS and Goodwood Revival.
Big Group has anchored much of MasterCard's live activation and digital work at sports and arts events in recent years and here, supported by staff from Kru Live, they were neatly activating benefits for MasterCard users with promotions at two locations including interactions with the impressive robot Pepper inside FOS's Future Lab showcase zone. The robot, Pepper is typically used in stores as a theatrical device for showing off the digital payment system, MasterPass.
Mastercard's promotional space footprint was small at Goodwood but the activations were neat, relevant and accomplished, and well presented by Kru's staff.
BMW and TRO and Purity Staffing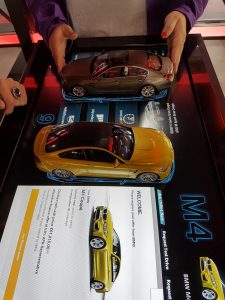 The FMBE team had originally been generously invited to Goodwood by BMW and agency TRO.  The agency is always all systems go for Goodwood as it has a range of automotive clients.
For BMW, TRO had devised a four-storey interactive showroom in which they displayed their latest models and invited the public to discover the brand. There were numerous points of interest. One eye-catcher on the ground floor housed miniature BMW's on shelves which attendees could pick up and put on an interactive table that recognised the model you had selected and offered up relevant insight. The table allowed the guest to view the specs, visit the website and even buy the car.
The other floors featured a relaxing rooftop hang out area, a café and a BMW merchandise shop, all of which were staffed by Purity brand ambassadors. Nikki Morgan, TRO commented "The BMW stand is a treasure chest of jewels, we are appealing to a more family orientated consumer and as the festival grows every year, so does the BMW showroom. Nicky suggested we try one of her personal favourite stand activities a chance to start in a mini photo flipbook. Visitors posed in front of the BMW backdrop for six seconds of movement and then a flipbook is created to take away.
Purity Staffing were supporting with impressive and knowledgeable brand ambassadors.
Mercedes and Losberger
The Mercedes enclosure showcased the cars on the bottom floor – an impressively pillar free arc-ed construction by elite standbuilders, Losberger. while upstairs was reserved for Mercedes Me, the car owners membership club where we shared a coffee with Paul Nash, Mercedes Me Product Manager (interview in our Autumn edition).
The Mercedes Me lounge also offered guests a convivial spot at Goodwood with a great view of the action on the racetrack below.
JLR and The Event Business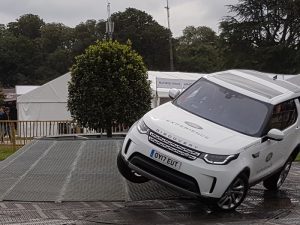 Jaguar Land Rover had 22 cars on display but the main attraction was the track. Goodwood visitors could experience the 4×4 capabilities first hand and be taken around rough terrain and mechanically improbable set-piece manoeuvres by an experienced driver on what was clearly an exhilarating ride.  The Jaguar sports cars were also put their paces with passengers clinging to the smart upholstery as rally drivers threw their guests into bends and doughnuts. Long-tern experiential partner The Events Business worked with Jaguar Landrover to create the experience which was unchanged on 2016 – a sensible repeat that allowed a new set of fans to enjoy what has become a show highlight. Again, this impressive stand was built at Goodwood by Losberger, the second year running. The stand has a commanding position and it encircles a huge tree, making for quite a spectacle. Claire Tootell, Jaguar Land Rover commented: "Festival of Speed is a great place for us to show the new Super charged XE for the first time. The track experience was incredibly popular last year and its already looking to be just as in demand this time round"
Porsche
The Porsche stand is another of those that provides sheer exhilaration for fans who, providing they can allow a bit of queuing time, can get behind the wheel of a 4×4 Cayenne and a take to the rally track with an expert driver.
Porsche's vast stand has several interactive zones and photo activations, many of them geared towards helping visitors to interact with and connect with the media, mood, styling and aspirational lifestyle that the brand offers. Porsche is synonymous with a certain studied cool and its Goodwood presence certainly underlined its credentials.
Porsche also pulled off one of the PR coups of the Festival by hosting a first viewing in the UK of the latest Forza racing game with support from Microsoft. Gaming and automotive press were impressed
Vauxhall and TRO and Aesthetics Events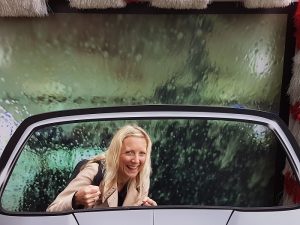 Vauxhall's presence at Goodwood was suitably ambitious with multiple experiences tapping into multiple areas of the brands sponsorship and advertising programme.
The various strands of the family activity were spread around a central technology driven stand designed to look like a petrol station forecourt. Activities around the forecourt dramatized the in-car tech. Further afield football themed games allied the brand to its broad base of sponsorship for the sport.
There was a something for everyone feel to the stand with face painting and a zipwire adding to the family feel.
Some of the core brand ambassadors for Vauxhall were provided by Aesthetics Events, an agency that enjoys several long-standing relationships with automotive brands.
Honda, Jack Morton Worldwide and Kru Live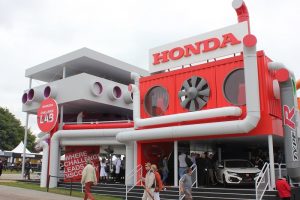 Like Vauxhall, Honda expertly created a family day fun and games vibe. The stand had a very bright appeal that housed a very upbeat set of games and giveaways expertly staffed by Kru. The stand used its space very cleverly creating the feeling of an enclosed party. It was much less aloof than some of the showroom style stands seen elsewhere, though still the cars were the stars of the show. We participated in a game, stacking suitcases into a car boot and filled out a data form in exchange for a goodie bag. The data for goodies exchange was really worth it, not just for the well-chosen promotional items but the top quality event CRM. The post-event follow up messages were the best of any we saw after Goodwood, a personalised web page included video of our game participation.
Boundless and Masters Exhibitions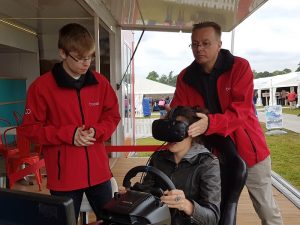 An eye-catching trailer has been built for civil servant events club Boundless by Masters Exhibitions and Shows. Boundless uses events such as Goodwood as a base from which to communicate with its membership. Boundless is an events business – it inspires its membership to get involved with great days out and holiday days, so using Goodwood to further its brand awareness is, to an extent, practicing what it preaches.
The trailer was mostly a field marketing exercise with CRM data collection using the data app Gather being a core part of Boundless' agenda, though a VR driving simulator added more than a veneer of brand experience.
Rob Eagles of Boundless explained his remit: "Goodwood always provides a great opportunity to reach out to our members and gain awareness for Boundless.  Boundless is a business about experiences and so events give us a great platform for showing our stand visitors our many exciting opportunities. We do seven to eight events per year so we always aim to keep the trailer, which is our own, looking in great condition (thanks to Masters Exhibitions) and we always capture visitor information using the app created by Gather so we can continue our conversation with our members after the event"
Vodafone and Freeman XP and Hel's Angels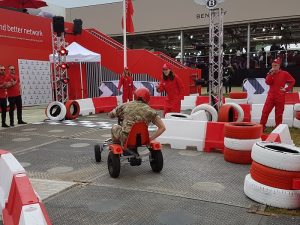 Freeman XP and Vodafone had created a mini pedal car race track.  The pedal car helmets were equipped with Samsung Gear headsets to live stream the race using Vodafone's 4G network. Dan Hall, Freeman XP talked Harriet through the activation. "Racers get in the pedal buggies, equipped with the headsets, and race around the track as fast as they can. All of this is captured on the latest Galaxy Gear.  The winner then has their photo taken at the winner photo booth then entered a prize draw to win a Galaxy Gear.  The event has been popular and the brand ambassadors, provided by Hel's Angels, are doing a fantastic job."
Vodafone had also installed 4G masts around the festival to ensure everyone had great coverage for the duration of the event.
Frank met up with Vodafone's lead for brand partnership, Daniel Underwood who said that Goodwood sponsorship was a new move for the brand but that the activity nevertheless had echoes and reminders of Vodafone's previous long-term association with F1 motorsport.
Maserati and Tebays Events and iMP
Maserati unleashed its first ever SUV, the Levante, on Goodwood's famous hillclimb in the 'First Glance' Class.
This was the first time the British public got to witness the Levante driving in the UK, making for one of the most eagerly anticipated debuts at the Festival of Speed.
The brand also had its first 'avenue' stand at Goodwood – very much in the showroom mould but playing on the history of the brand and its racing links. Brand ambassadors supplied by iMP were talking to visitors to the stand and booking them in for test drives if they were keen.
Event Specialists, Tebays worked closely with Maserati to bring stand to life. The current range was on display on the stand, the VIP area had partnered with Caviar House, Prunier and watch maker Bulgari.  The renowned gastronomy brand offered an exclusive caviar tasting experience to Maserati guests throughout the event.
IQOS and Avantgarde and iD Staffing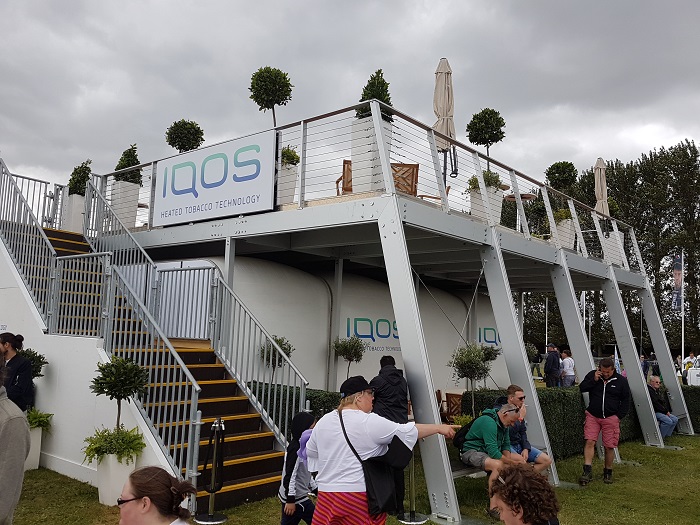 IQOS is the heat release nicotine and flavours experience from Philip Morris that the brand manufacturer feels is a fully satisfying experience for adult smokers, smoke free.
IQOS's pop-up experience is part consumer training and also provides a relaxing event day environment for potential customers and their friends in an elegant and smartly designed two storey pop-up by agency Avantgarde. The open-air top deck provides a chilled out viewing platform for IQOS's guests.
We saw the pop up at both Goodwood and Silverstone. At Silverstone, Drew Daughtrey, brand manager, told us that the pop-up was really delivering on expectation and had been well supported by several agencies – including Avantgarde as well as brand ambassadors from iD.
PlayStation and Circle
Gran Turismo is such a famous franchise that it is seen in many corners of Goodwood, but just in case, Circle and PlayStation had a nice crowd of enthusiasts lined up in the Future Lab at the show along with a driving simulator.
Sky and RPM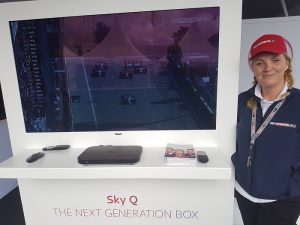 The Sky pavilion enjoyed a great track position at Goodwood with top storey viewing and goodies to give away, including phone cases as well as Virtual Reality demos.
Sky's presence at Goodwood has been supported for several years by agency RPM and the strength of partnership came across well, where knowledgeable brand ambassadors from RPM were demonstrating key features of the Sky Q box.
The experience deployed simple and effective tactics for building immersion and dwell time including ear plug giveaways and phone charging ports.
Rolls Royce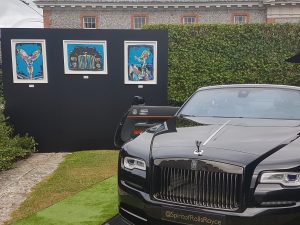 Off the beaten track lay The Rolls Royce intimate garden. A cinema cordoned off by hedges on one side and a museum dedicated to the founders of Rolls Royce on the other and in the middle a stunning water feature dominated by a giant black sculpture of the rolls Royce 'Spirit of Ecstasy' car bonnet emblem.
Away from the hustle and bustle of the rest of the festival, this open-air experience oozed with class and sophistication synonymous with the brand. Whispers that brand experience agency, Energy were behind the activation are yet to be confirmed although the high quality of the spectacular build and attention to the brand's strong allegiance with art were clearly the work of an agency that delivers on style and substance.
Rolls Royce has built an amazing, global allegiance with art.
At Goodwood art provided a key part of the event visuals and an exclusive experience for VIP guests.
During the day, Bradley Theodore, the artist who famously painted a Rolls Royce outside the Maddox gallery, was painting new artworks for visitors to the Rolls Royce enclosure to watch, an activity that drew global coverage.
The secluded Rolls Royce VIP lounge had the feel of an intimate garden party and was a wonderful setting to finish our long day at Goodwood
F1 Silverstone
Silverstone is trying hard to up its overall event experience and it is fair to say that it has moved up several places from a bottom half of the entertainment grid performance a few years ago. For the fans' of course, the cars and the action is everything and in this the track and its history excels, but on practice day Friday and qualification day on Saturday, there is quite a bit of down time to fill – and now the Fan Zone is awash with pitstop challenges and photo activations to keep the more casual fans engaged.
Most of these are fun and engaging, though a 'Wave the Flag' experience in which you could pose in from of a still backdrop with a chequered flag seemed a little underwhelming. It still earned a queue on the practice day though!
Silverstone puts on several experiences itself, but these are supplemented now, with brand activations.
Johnnie Walker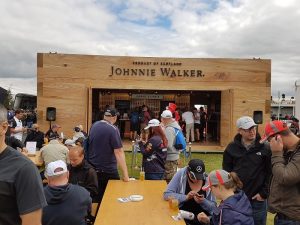 The whisky brand had the most obvious branding. It supports the Force India team and has taken over much of the billboard space, stepping around possible objections by signing people up to #jointhepact for zero drink driving. The brand has had an anti-drink driving VR campaign for a couple of years now. At Silverstone, the brand was also sampling and selling cocktails from multiple units and a central stand using very engaging brand ambassadors.
Heineken
The brand supported its pouring rights with a chilled-out enclosure with DJ in the fanzone, supported by cheerful staff from Eye Candy.
Cars 3 – Disney/Pixar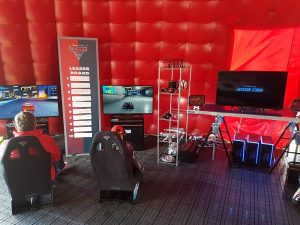 An 11th garage on the Silverstone pitlane housed Lightening McQueen and Jackson Storm whilst both F1 title rivals Lewis Hamilton and Sebastian Vettel have voice roles in the upcoming Cars 3 movie.
The film promotion also reached out directly to fans with family car games in a branded inflatable dome in the Fanzone.
Renault and Benson's Agency
Renault relied on two old faithful friends, photo activation and Virtual Reality to augment its car showroom in a field. The VR was a bit hidden away at the back of the stand too, but even without putting a headset on you could see from the reactions that it was an engaging one as participants held interactive nunchucks for getting to grips with a virtual car (presumably to help at a pitstop).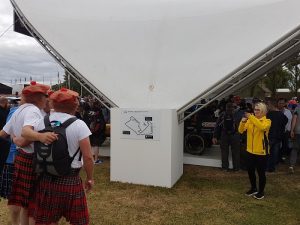 The visitor engagement was co-ordinated by staff from Renault's long-term brand ambassador partner, Benson's Agency, and you could see why this team had been chosen – they were bright, funny, articulate, welcoming and knowledgeable about both the brand and the VR Experience, which, I was informed, had been specially devised by Renault themselves in Paris.