Opinion: from agency Live
For a lot of businesses, 2020 was tough but few more so than businesses inthe experiential and events sector. With consumers confined to their homes, real face time limited and indoor functions restricted, the very lifeblood of the industry has dissipated.
One agency that felt the sting of Covid, and had to work hard to deliver safe, distanced experiential marketing campaigns was Live, a product sampling agency with people at its heart who help brands devise strategic, creative and operational sampling campaigns.
Live has developed new techniques to deliver results, and adapt the way experiential marketing can be done in the 'new normal'.
During lockdown, Live worked on a range of successful activations. One such was the Hyperoptic campaign.
Live collaborated with fibre broadband company Hyperoptic to spread the word about faster, cheaper broadband solutions during lockdown. To successfully activate this campaign an ice cream van drove to various neighbourhoods across London to promote the mantra 'no more frozen broadband', bringing the brand and it's potential audience closer together.
This experience was achieved in a carefully orchestrated, safe environment.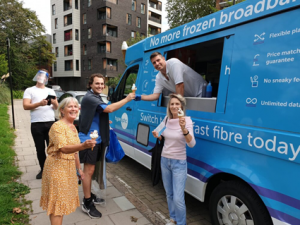 Hyperoptic's 'No more frozen broadband' campaign delivered by Live
It's this kind of strategy that will help experiential marketing to bounce back in 2021.
Technology
Further experiential marketing comebacks will make use of advancing technology. Virtual reality and augmented reality equipment, live streams as well as other virtual platforms have all become commonplace in experiential marketing.
Levi's FW21 launch this year, for example, let online guests interact within a 360-digital world that displayed their latest collection. Online attendees could choose what pieces they engaged with and how to navigate the virtual space.
Such use of technology can tide consumers over while lockdowns continue, and once normalcy has resumed will only help to further enrich physical experiences.
2020 has reaffirmed that humans are social creatures and the major sense of FOMO that lockdowns instilled amongst the population has left consumers craving real, authentic experiences from their favourite brands.
Evidence of consumer demand  for events post-lockdown
You only need look at countries like Australia and New Zealand who have seemingly conquered the virus to see the appetite has increased for large scale social events. This is certainly a good omen for experiential marketers across the rest of the world.  Eventbrite in Covid secure places is chock full of upcoming pop up experiences, many of which are sold out and this footfall of enthusiastic consumers ready to engage with brands is something the UK can expect to see later on this year.
It's not a stretch to suggest that the future of experiential marketing will look a little different from what it was before, with brands having to pivot their delivery methods to engage with customers for the time being.
Leyton Ede, Managing Director of Live, is confident that experiential marketers will continue to adapt in these uncertain times
"We will continue to incorporate new technology and adapt to restrictions to ensure we can create genuine experiential marketing campaigns that bring businesses and their people closer together."
He continued, "Trust though, once social restrictions are lifted, whenever it may be, experiential marketing agencies will be ready to deliver new, cutting-edge experiences for customers and brands – and they'll be even better than before."