FMBE's Frank Wianwright met Swapcard CEO Baptiste Boulard soon after last month's SXSW festival was hosted on his platform.


Virtual events organiser and virtual events hosting platform Swapcard is a growing business that has grown out of B2B conferencing and exhibiting to its recent hosting of the festival SXSW, aka South By. Another way of looking at South By is to simply call this cultural music film and interactive phenomenon as one of the world's landmark large events.
The live SXSW event, typically hosted in Austin Texas, draws in direct revenues of more than $350 million. That's Superbowl money. Its 2020 cancellation put even more pressure on the 2021 decision to go virtual.
So when meeting Swapcard CEO on the Monday straight after the big online event, having packed away Willie Nelson's virtual guitar, I expected to find myself chatting to a somewhat blown away Baptiste Boulard and the company he co-founded facilitated this epic, but no, here was a man who was calm and orderly, announcing a 'great success' and assessing the way in which Swapcard had met the expectations of an event with multiple target audiences – free access fans, paid fans and B2B customers and networkers. Whilst Swapcard offered SXSW live support throughout, it sounded as if really hard work had gone into the planning and pre-event process.
For South By, a key part of the plan was to provide large amounts of unrestricted content to reach the broad fanbase, whilst at the same time still deliver privileged content for the ticketed.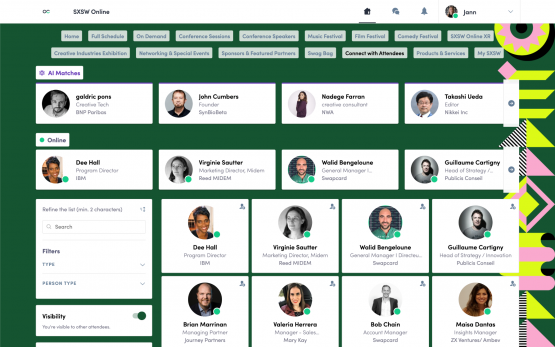 Accountability is, as always, quite challenging, but Swapcard is certainly designed to capture value in terms of event KPIs. Says Baptiste, "Before Covid 19 we used to measure success at a virtual event in terms of volume… but a good aspect of a virtual event is the dashboard – the organiser gets instant feedback, and it is a great way to capture data."
Of course, a measure of success for Swapcard will be if SXSW builds on this year's relationship and uses Swapcard to become more hybrid in the future. "There's a massive opportunity for SXSW to be even bigger", says Baptiste, noting how the virtual event has reached an audience who would not be likely to take on the travel requirements to attend in person. Swapcard, he comments, have clients who use their hybrid platform to build a community and provide monthly online content, turning their event into a year round communications strategic platform.
As we emerge from lockdown 'the market is really looking forwards", concludes Baptiste.