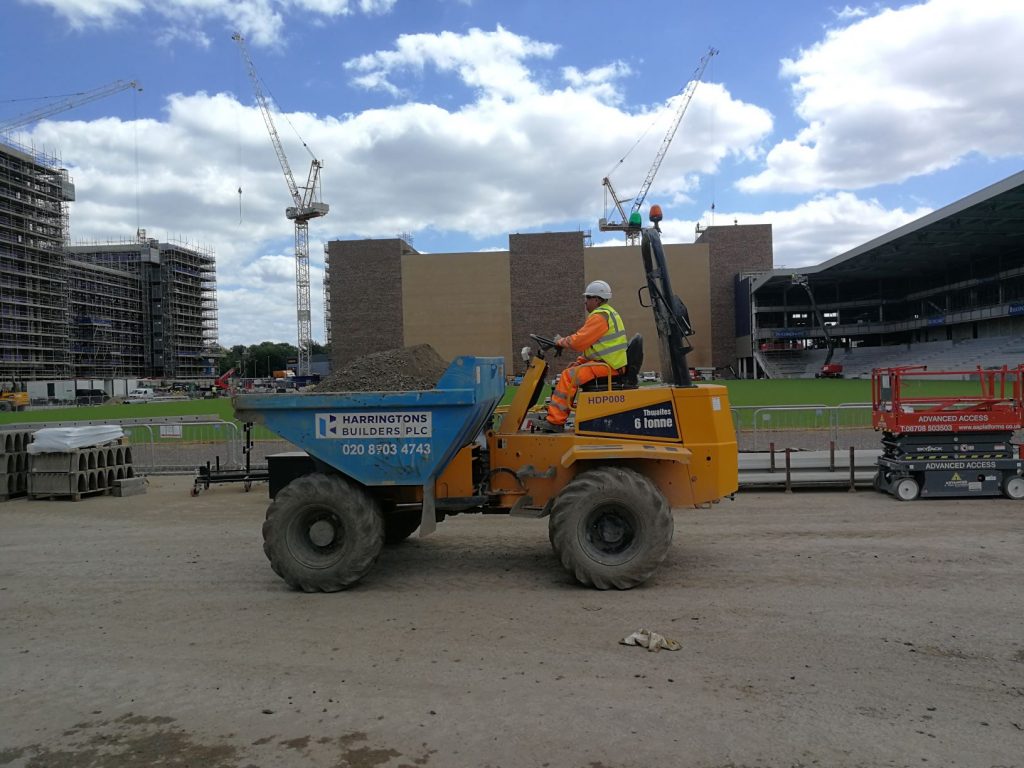 By Frank Wainwright, director, FMBE
Yesterday stood in a dusty, noisy racket, celebrating the emergence from chrysalis. Emerging was a club, a sport and more generally all mass participation events.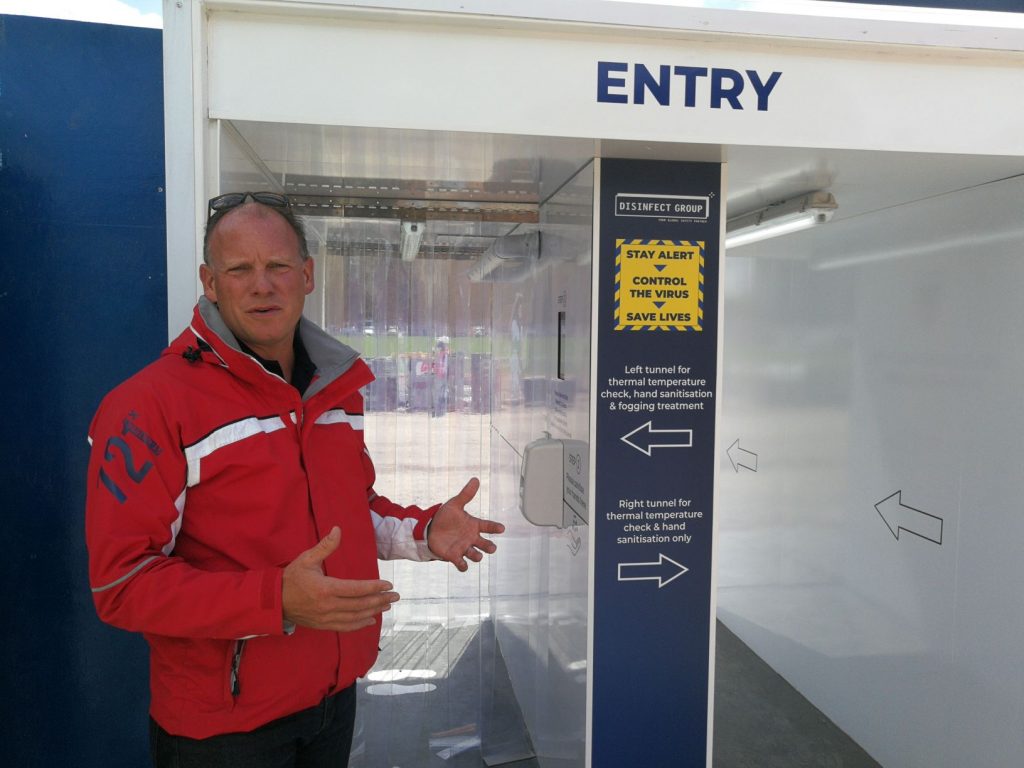 I was standing on a very special building site. If you work in events, you'll recognise that hard hat moment, awaiting a big day. You know what is coming and you can almost touch it, almost feel the buzz, hear the collective applause. Here I stood, in a hallowed spot and felt life as I once knew it emerge, positively, through a slightly distorted prism.
Yesterday was the day Wimbledon tennis fortnight should have started but the positive sports noise was down borough road at Plough Lane where the construction of the new stadium for AFC Wimbledon is in full swing. There I met CEO Joe Palmer, proudly observing the industrious build team.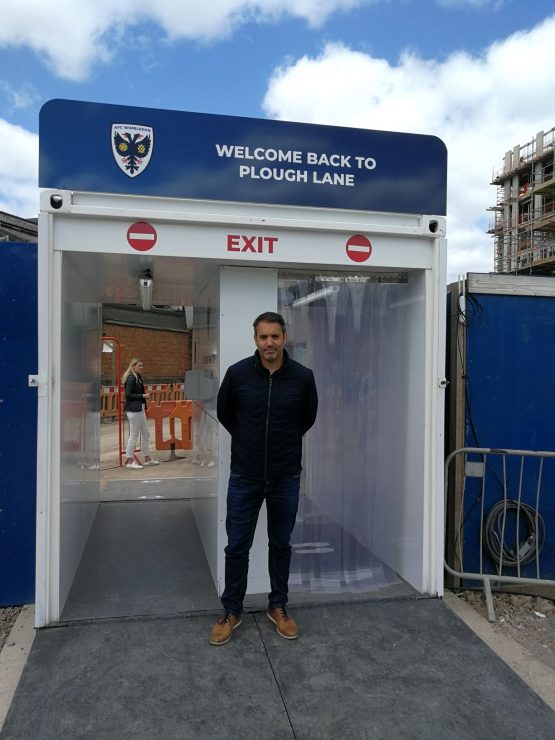 Yesterday was also a day of hope, as my press invitation to Wimbledon had come courtesy of the rapidly emerged Disinfect Group, a pioneering event industry team who have their eyes on the ultimate prize for mass participation events following their enterprising global roll out of anti-viral event arrival tunnels. This team, led by Tom Eatenton and SJ Benham, also directors of  events industry staff provider Kru Live, have, in effect, been first responders for the events industry…
There could hardly be a more relevant spot for Disinfect's press launch than a football ground that represents one of the great fan and location stories, the romantic tale of how resourceful and responsible a mass audience can be when driven by a collective passion and goal.
Standing on the construction site it was hard not to feel the emotion. I had stood in this spot another lifetime ago – 25 years or so – at a stag do held at the greyhound stadium that had once stood here. To get to the dogs we had driven past the dilapidated old site, just up the road on Plough Lane, where old Wimbledon FC had finally closed its rusty turnstiles back in 1991. Wimbledon famously became itinerant, playing matches at Crystal Palace's Selhurst Park, before finally rebranding as MK Dons. So, the fans started everything from scratch, creating AFC Wimbledon.  MK Dons and AFC Wimbledon finished 19th and 20th in the EFL League One table after this year's curtailed season just doing enough to escape relegation.
Plough Lane today represents an epic return driven by fan power and financed by those passionate about their club and location via crowdfunding platform Seedrs – together with not inconsiderable input from ASOS magnate Nick Robertson.
For fans who have been awaiting their collective home gathering since 1991, the COVID crisis might seem a mere inconvenience in sporting terms. But all football fans in 2020 are desperate to get back to the live event thrill ASAP and Disinfect Group are there to help facilitate that.
I felt a little bit special, a tiny bit VIP as I sanitised my hands and passed a temperature test. It was also very pleasant to go though a mist of electrolysed water. It is a pleasing walk-through that crowds will embrace – and the evident quality of build is one that brands and advertisers are sure to take advantage of.
I will spare you the whys and wherefores of how safe this makes events, suffice to say that it certainly feels reassuring and dependable. This is great armoury for the events industry for when the government needs to see evidence of the industry's adaptability.  These tunnels can also block together seamlessly to facilitate mass arrivals. You can read about the units here
Previously in our news…
Disinfect Group partners with beMatrix to roll our sanitisation tunnels