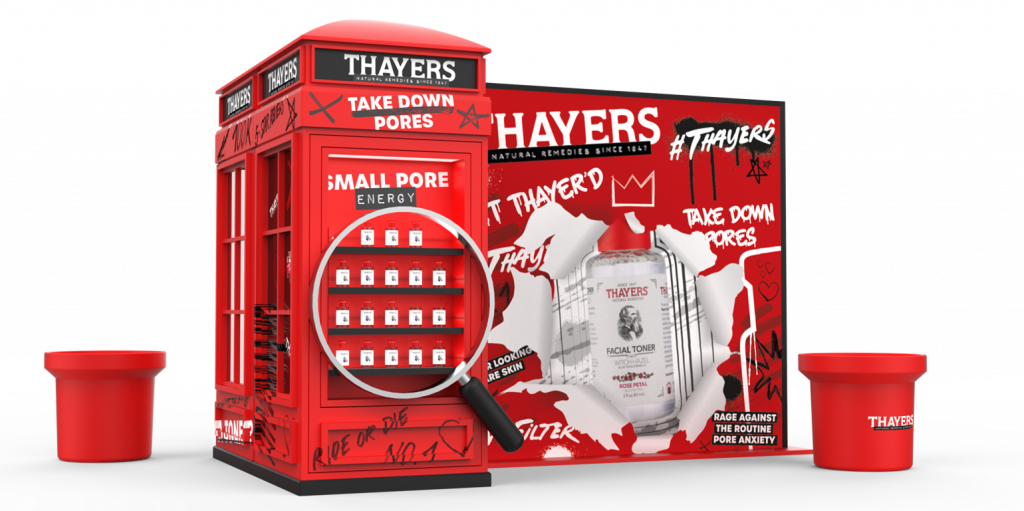 Thayers, a witch hazel championing natural remedy health and beauty brand, has popped up with a bright red look in two London locations. The brand, which was bought by L'Oreal in 2020, is unveiling its new messaging to consumers in a campaign created by agency Backlash. The non-alcoholic witch hazel formula is clinically proven to reduce the look of pores in as little as one week as well as provide 8-hour hydration, whilst being gentle and non-drying or stripping.
Ahead of this pop up, Thayers did a deep dive into who their consumers were.  Teens and the Gen-Z market were identified as a clear key consumer of the brand. A rebrand to make them more appealing to Gen-Z was made. Thayers said goodbye to the apothecary look and hello to an unapologetic and confident rebrand asking everyone to own their skin.
At the pop ups, a full brand remix focuses on the question: WTF is a toner?
The two pop-ups will invite consumers to try samples of the iconic best-selling toner and learn more on how Thayers can help 'take down pores.'
WHERE AND WHEN?
Battersea Power Station, Malaysia Square, Circus Rd W, Nine Elms, London SW11 8AL
Fri 4th August (11am – 7pm) & Sat 5th August (11am – 7pm)
Boxpark, 2-10 Bethnal Green Road Shoreditch, London, E1 6GY
Thurs 17th August (11am – 6pm) & Fri 18th August (11am – 5pm)
Carina Garcia, Senior Art Director – Backlash comments: 
"The centerpiece of the pop-up concept is the iconic British telephone box, reimagined with an edgy American look. Inside, guests are invited to dial 1847, the iconic year Thayers was founded, connecting them to a skincare expert ready to answer the most asked question 'What the F*** is toner?"
The educational dialogue within the telephone box offers valuable insights into the benefit of using Thayers toner as the one-step prep for better bare-looking skin. Once the call concludes, a sample drops into the phone box, empowering guests to try it at home – This simple approach introduces the new Thayers brand positioning in a fun and memorable way and drives home why the brand has garnered such massive popularity in the States"