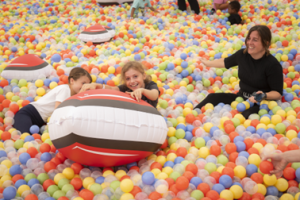 Haribo, the nation's leading sweet maker, has officially launched the 'Hide n Seekers' experience at Bluewater Shopping Centre in Kent, featuring the UK's largest ball pit. Live for 21 days over four weeks, the experience is completely free for fun seekers young and old, providing an exciting, budget-friendly summer day out.
In its second year, the 'Hide n Seekers' activation brings to life Haribo's brand purpose of delivering unconcerned moments of childlike happiness for all. The experience, conceived by global brand experience agency Sense, is expected to attract thousands of visitors and will be supported with below the line marketing activity including PR, influencer engagement and social media.
And 2023 is set to deliver a completely new experience. The 'Hide n Seekers' experience sees Haribo launch the UK's biggest ball pit, containing 700,000 balls, with visitors able to win prizes – but only if they can seek the special branded balls hidden in the pit. Attendees will be treated to a series of photo opportunities, including giant Haribo sweets and sweet bags, and a giant Goldbear to take a selfie with. And for the first time ever, 'Hide n Seekers' will feature a Haribo pop-up shop, allowing fans to buy Haribo and Maoam products consumers won't tend to find in places like their local supermarket or sweet shop. This includes Haribo Drums featuring Yellow Bellies, Giant Happy Cola and Rhubarb & Custard alongside classic favourites like Supermix, as well as unique merchandise like scented Goldbear plushes and Haribo Starmix flasks.
In order to ensure the ball pit is as accessible as possible, the first session of every day will be tailored especially for those with sensory sensitivities. This includes reduced queues and therefore waiting times, lower volumes on music and microphones, and an overall smaller capacity and more relaxed feel. Sensory sessions will take place between 12:00-12:30 and general admission will be from 12:30 onwards.
Phil Murphy, Head of Marketing at Haribo, said: "The Haribo 'Hide n Seekers' experience is the perfect way for kids and grownups alike to enjoy a moment of childlike happiness this summer. Following on from the success of last year, we've gone even bigger in 2023 with the UK's largest ball pit, fun free games and, for the first time, giving fans a small taste of the many delights to be found inside a Haribo store".
 Sally McLaren, Managing Director at Sense, said: "We're so excited to bring Haribo 'Hide 'N Seekers' back for its bigger, bolder, and brighter second year, as we continue to help the brand drive brand consideration during the summer months. Aside from all the fun, we've also focused on fame for Haribo, brokering a month-long residency for 2023 at Bluewater shopping centre that has been bolstered with an 8-week takeover of the centre's media. A combination that we are confident will deliver the big brand immersion and huge reach to exceed all expectations for the event."
James Waugh, Centre Director at Bluewater Shopping Centre added: "We're thrilled to welcome Haribo's 'Hide n Seekers' to Bluewater this summer. The free-to-visit event will be sure to entertain all-ages this summer. In recent years we have diversified our leisure offering here at Bluewater, and pop-up experiences like this are a key part of keeping our line-up fresh and exciting for our guests."
Haribo's 'Hide n Seekers' summer event will be open Wednesday to Sunday, plus Bank Holiday Monday, from the 2nd to 28th August. The event has a 1M minimum height restriction, and is a socks but no shoes experience. Queues at busy times of day have been noted in local news coverage.