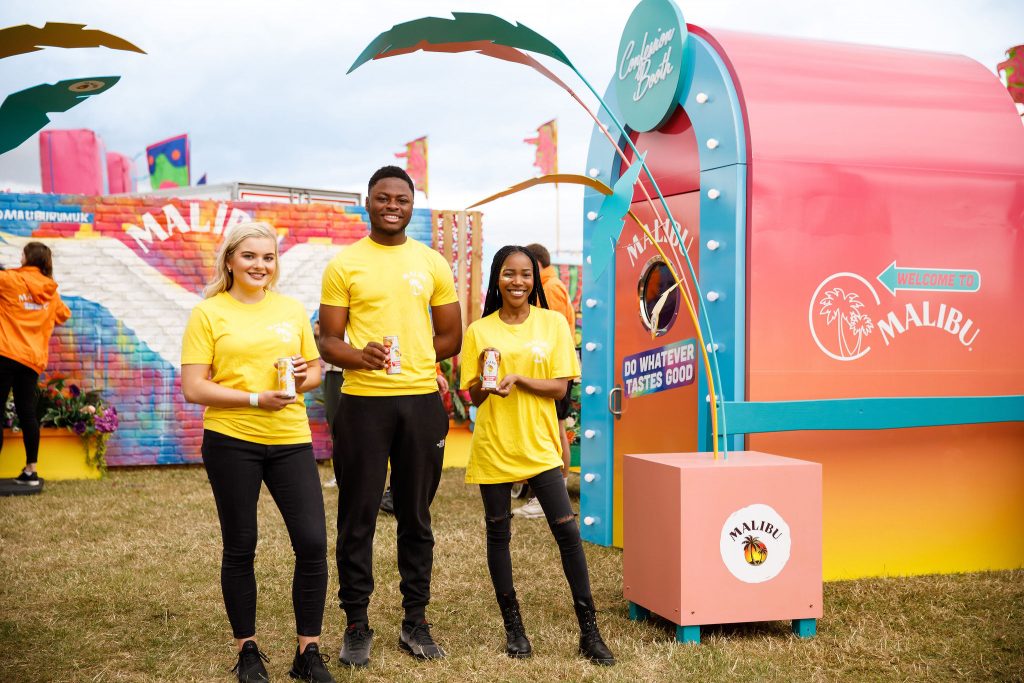 Photography from Elrow by Everynight Images
Purity, the experiential marketing agency, is thrilled to announce the creation and production of the Malibu Confession Booth. This unique experience, developed in collaboration with Pernod Ricard UK, perfectly captures the essence of Malibu's "Do Whatever Tastes Good" campaign for summer 2023 and beyond.
Pernod Ricard briefed the team at Purity to design an interactive booth that enabled audiences to step into a world where judgment is left behind and self-expression reigns supreme. The Malibu universe welcomes you to unplug, live in the moment, and do whatever brings you joy.
In the Malibu Confession Booth, up to four friends have the chance to answer confessional questions, strike a pose for an epic photo, have a mini-disco, and receive a printed keepsake of your unforgettable experience. As a special touch, Purity created a personalized GIF capturing
their best moments, ensuring a lasting memento of the experience.
Malibu will be seen at two incredible festivals this year, Elrow and We Are Fstvl as well as at Manchester Pride in August. But that's not all – they'll also be making stops at various bars across the UK, spreading the Malibu love and leaving party-goers with lasting memories.
The Malibu Confession Booth is more than just a booth; it is a celebration of individuality, inclusion, and authentic fun. Malibu has always been the pioneer of spontaneity, and the Confession Booth is the perfect place to be unapologetically yourself.
Purity's creative and production team oversaw all aspects of the design and build. Our team of 
Brand Ambassadors are trained and primed in the Malibu brand world and ready to take 
audiences through the experience – because of the popularity of the experience, two booths
have been built – one festival-ready and the second for smaller locations such as on-trade city centre bars. 
The agency stated: "Purity is delighted to once again partner with the amazing team at Pernod Ricard to bring this 

electrifying experience to life. Together, we will make this summer a celebration of pure joy and 

unapologetic fun with Malibu!"