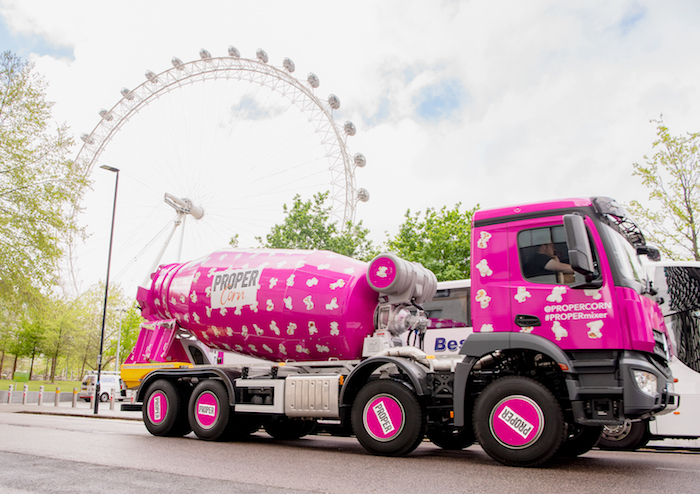 Propercorn is touring the country in a 33ft pink cement mixer. The colourful campaign is designed to showcase the brand's range of eight popcorn flavours and bring to life the story behind Propercorn's entrepreneurial inception. Inspired by the TV programme Top Gear, co-founder Cassandra Stavrou famously used a car spraying kit in her mother's kitchen to coat her very first batches of popcorn with oil, before tumbling them in a refashioned cement mixer.
In a nod to its award-winning "Project Pattern" campaign, in which the brand wrapped Routemaster buses, Propercorn will be transforming its concrete mixer with a bold popcorn kernel pattern, set against its distinctive pack colours. Thecampaign kicked off on April 26 and sees Propercorn touring the country for tendays. The head-turning truck will travel more than 500 miles from London to Leeds, Manchester and Birmingham, sampling some 150,000 packs of popcorn.
Cassandra Stavrou, co-founder of Propercorn said: 'The humble cement mixer has become a real emblem for PROPERCORN and of the resourceful and creative approach we've taken since day one. Since launching in 2011, we've has seen unrivalled growth, transforming the healthy snacking landscape both in the UK and across Europe. We couldn't think of a better way to celebrate our team's different way of thinking and continued passion for popcorn than with a nationwide road trip in the PROPERmixer!'
As well as sampling its collection in cities across the country, Propercorn will be engaging with people across Instagram and Facebook throughout the campaign. Digital fans will be encouraged to share pictures of the PROPERmixer if spotted on route, for the chance of winning a year's supply of popcorn. The nation will also be able to dictate the route of the cement mixer, requesting where it stops via the Instagram Story poll feature.
Agency Raccoon were enlisted by Bearded Kitten to create the Propermixer.  The production team printed around 75 metres of vinyl to cover the whole cylindrical mixer and all its intricate elements. Some of this already had the signature popcorn pattern printed on it, whereas other areas required individual popcorn kernels to be created for application afterwards. These overlays were contour cut on a Zund finishing machine. An Arlon vinyl was used to support the temporary nature of the campaign (and the fact that it would all need to be removed afterwards), and the contouring of the mixer. The gloss lamination added the 'pop' for a finished result.
Bountiful Cow handled the media for the activation.