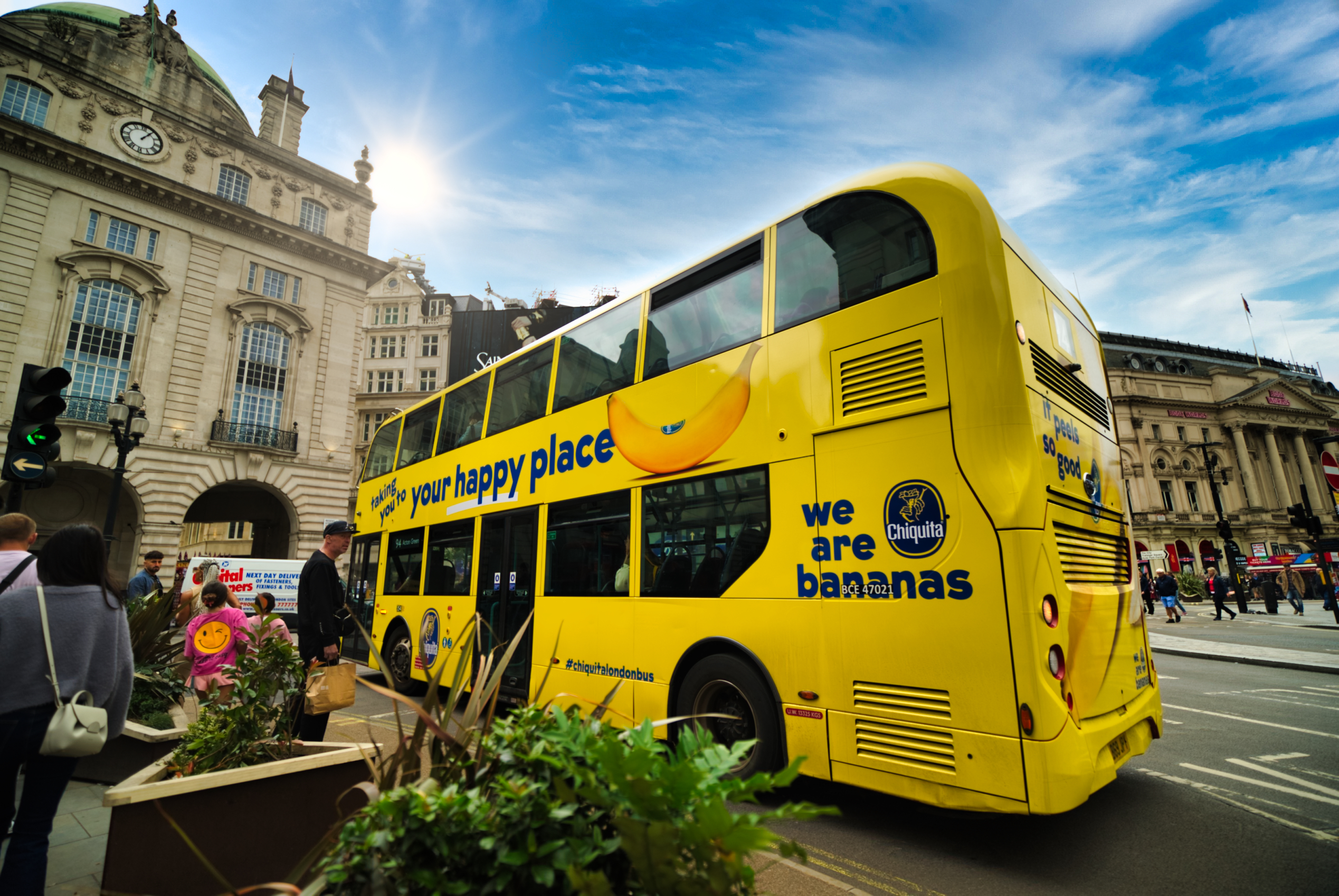 For the ninth consecutive year, Chiquita is participating in the London bus campaign to bring back its iconic yellow banana buses to London this summer. The seven, fully-electric buses will run along central and high-pollution transportation routes from the beginning of July to mid-August, helping to reduce CO2 emissions and air pollution while bringing some brightness to the streets of London.
The CO2-neutral buses, wrapped in Chiquita's signature yellow and blue colors, showcase Chiquita's commitment to fighting climate change by promoting the environmental and societal benefits of public transportation while highlighting the brand's superior taste and quality, and encouraging healthy living. The initiative goes hand-in-hand with the recent launch of Chiquita's global campaign, "It Peels So Good," which tells the story of Chiquita's rich history and bright future. Much like the seven London buses, the campaign evokes an emotional response that goes beyond the moment of consumption and connects people to the brand.
"Chiquita is so excited to be back on the bustling streets of London embracing the tenets of sustainability as we forge ahead on our journey towards climate solution," said Peter Stedman, Chiquita's Director of Sustainability. "We remain unwavering in our mission to a sustainable tomorrow, and these bright buses will continue to help consumers to build an environmentally-friendly future."
John Cockle, Chiquita's Sales and Market Director, UK and Ireland added, "Chiquita is devoted to sustainability, not only in its everyday brand initiatives, but also with its partnerships. When consumers see the London buses once again this summer, we hope that they recognize the mission behind our esteemed Blue Sticker, and our rich heritage and commitment to forging a sustainable future."
Chiquita has been an easily recognizable brand since 1944, when it introduced its world-famous Chiquita jingle. Today, Chiquita aims to educate and inform consumers of the nutritional benefits of Chiquita bananas and innovate sustainable practices through the Behind the Blue Sticker program. These efforts ensure that Chiquita is providing the highest quality banana while also supporting a sustainable future for its farming communities and consumers.