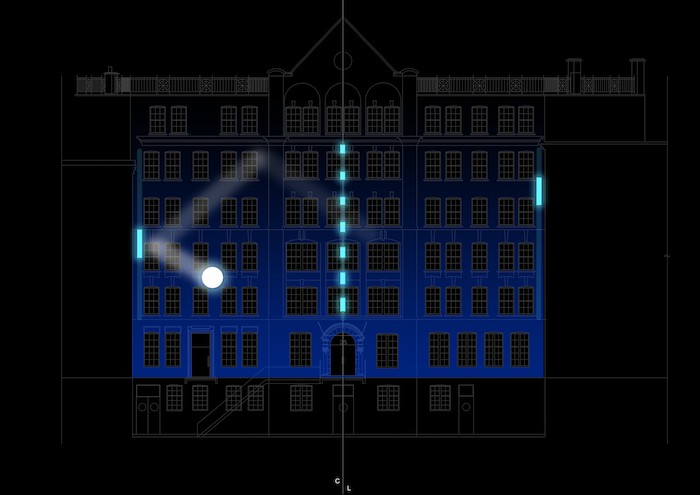 Independent global brand experience agency, Imagination, has created an interactive visual spectacle, entitled 'A Bit Immersive', on the outside of its London office for this year's Lumiere London. The festival has been produced by arts charity Artichoke and commissioned by the Mayor of London. The four-night festival is completely free to attend and will run from 18th – 21stJanuary.
'A Bit Immersive' – a reference to the 8-bit gaming era in the 1980s – will allow the public to play the retro 'Pong' game on Imagination's transformed Store Street office. Two people at a time will be able to play against each other by standing in an interactive unit and moving their hands to make the 'paddle' on the building move up and down, gaining points by hitting the ball beyond the reach of the opponent's paddle.
The paddles that will be used in the game are made of LED Neon attached to the building façade and the ball is a beam of light hitting the building. With the paddles moving only through the public's interaction, it allows them to immerse themselves into the old school gaming environment on an immense scale.
Patrick Reid, CEO at Imagination, said: "Lumiere London programme is bigger, brighter and bolder this year and we feel honoured to be able to create something for it. When shaping this idea we wanted to do something different that could be developed from scratch and be a significant addition to the festival. We have been creating inspiring light displays on our Store Street office for over 20 years so this was a logical creative leap to make something interactive that used our creative and tech skills."
Following the success of the first Lumiere London in January 2016, the festival will feature more than 50 artworks by UK and international artists which are set to transform the capital's streets, buildings and public spaces into an extraordinary and immersive nocturnal art exhibition of light and sound.
This year's edition extends from North to South across six city destinations: London's West End, King's Cross, Mayfair, Fitzrovia, Westminster & Victoria, and South Bank & Waterloo.