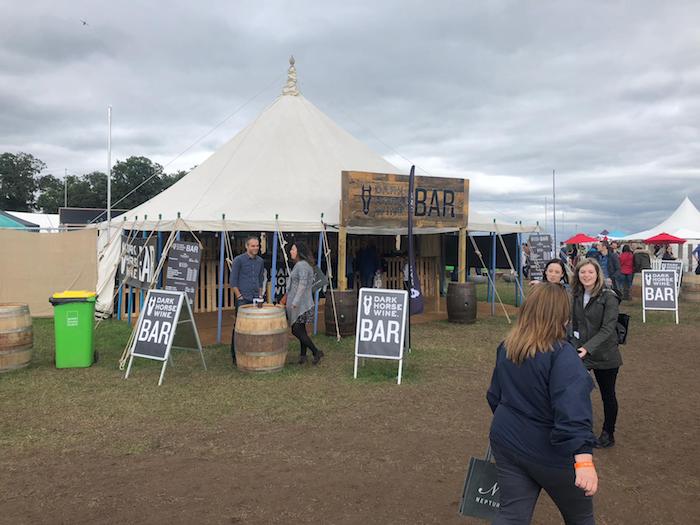 Julia Charles Event Management has designed, built and installed a 'flat pack' style re-usable bar for Dark Horse Wines to use at the Pub in the Park series of events – that concluded this weekend at Knutsford, Cheshire.
The bar is made from old and new pallets to give a rustic but contemporary effect, with large truss supports to hold up the bar and accommodate lighting. The back of the bar serves as an area to showcase the wines; the bottles have been placed in scaffolding clips, with down lighting constructed from festoon and tungsten bulbs to give a rustic but modern look.
Michael Charles, director of Julia Charles Event Management said: "Dark Horse Wines is a challenger brand – it is rebellious and modern so we created a bar area that would reflect these brand values and fit with the Pub in the Park vibe. The Dark Horse Wines bar needed to be robust and fit for purpose whilst being easy to construct, pack down and transport. Attention was also given to create a space that would accommodate the expected high foot fall and enable the on-site team to quickly and efficiently serve the audience to avoid queues building up. Long queues have a negative effect on the overall consumer experience, which in turn could affect people's perception of the brand, so it's key that stands like these are user friendly as well as attractive to the eye. We also had to make sure it could be cheaply transported and easily reused for each event date, leading to us to create a 'flat-pack' design that we could install and reinstall with relative ease."
The Dark Horse Wines bar toured all four Pub in the Park locations this summer: Marlow, Tunbridge Wells, Bath and concluded at Knutsford, Cheshire this weekend.