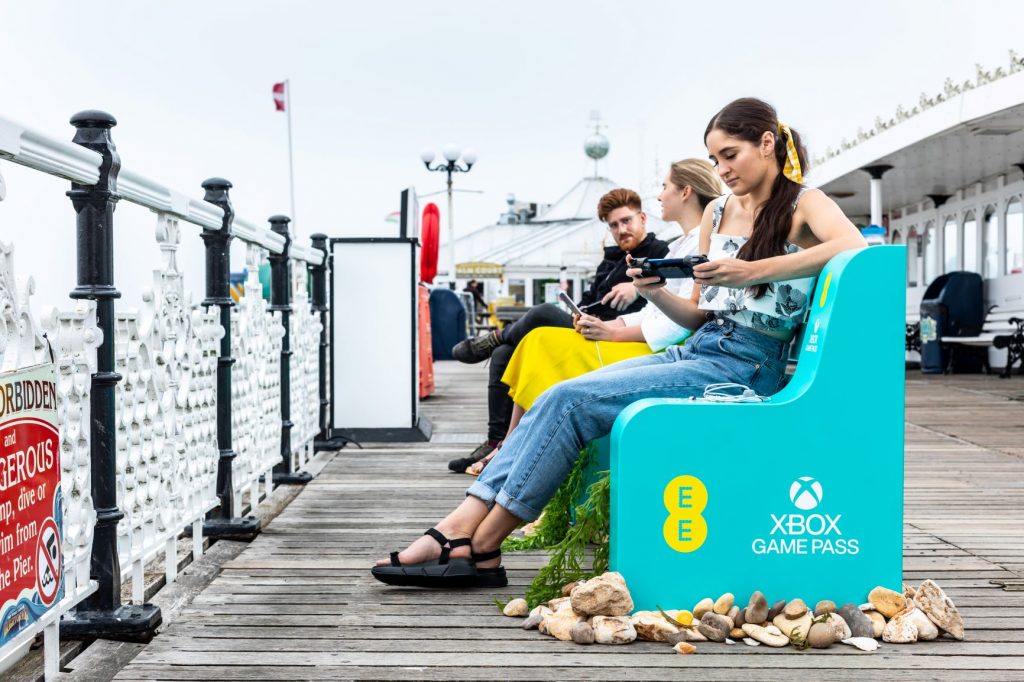 With mobile gaming growing rapidly in popularity, EE today unveils two Gaming on the Go Pit Stops in 5G locations; one on Brighton seafront and another on Liverpool's Royal Albert Dock – to celebrate its new Xbox Game Pass Ultimate add-on and to help players re-immerse themselves into the gaming world.
The creative, delivered by M&C Saatchi TALK, sees EE's 5G immersive gaming zones fitted with super-fast charging created for mobile gamers. The benches come as the UK's number one network for gaming reveals almost three quarters of British gamers have gamed outside their home in the last year. Custom built to deliver an enhanced gaming experience for up to three mobile gamers at a time, each bench allows EE's 5G customers to harness the power of the award-winning network in each location to ensure smooth, uninterrupted gameplay.
Amplifying their surroundings and taking inspiration from some of the most popular games in the Xbox Game Pass Ultimate library, the Gaming on the Go Pit Stops are the perfect way to truly get lost in the moment and take the gaming experience to the next level. According to EE's research, in the year that made going for a walk more important than ever before, 1 in 5 gamers is now gaming on their smartphone whilst getting their outdoor exercise. Something that backs up EE reports of a 31% increase in data usage across some of the most popular mobile games on the network – from the last three months of 2020 to the quarter of 2021.
With nearly half of gamers in the North West and South East saying a faster mobile connection would make them more likely to game on the go, the benches are situated in the perfect location to rest, recharge and reset enabling gamers to get their head firmly back in the game.
Influenced by its seaside setting, the Brighton Pier Pitstop Bench, surrounds gamers with the sights, smells and sounds of the seaside, transporting them to another world when playing games set on or around the ocean.
In contrast, Liverpool's Royal Albert Dock Bench takes form of a more familiar racing pit stop, situated in a busy industrial city centre, taking inspiration from many driving and racing games. Further heightening the experience for users, this bench comes complete with custom racetrack sounds to further blur the lines between the gaming and physical world.
Pete Jeavons, Director of Marketing Communications at BT and EE commented: "Our recent research shows that gaming on the go is continuing to rise and as the UK's number one gaming network we wanted to enhance this experience in a fun and truly immersive way. In celebration of our new Xbox Game Pass Ultimate add-on, which gives our customers unlimited gaming data and access to over 100 games, our aim is to provide the best gaming on the go experience for our customers. The immersive Pit Stops allow gamers to re-immerse themselves in the gaming world. Connected with our high-performance network and fully charged with the inbuilt superfast chargers for the ultimate uninterrupted game play experience."
Sophie Bannister, Head of Creative Development at M&C Saatchi TALK adds: "Consumers haven't been able to go to brand events IRL for over a year.  Experiences like this are disrupting the everyday, they pop up and consumers can interact with the activity as much as they wish, it's a great way to immerse consumers in your brand as well providing a memorable experience."
The EE Gaming Pit Stop Benches will be available at Brighton Pier from 10th to 13th June and Royal Albert Dock in Liverpool from 10th to 11th June. For more information on EE's Gaming offering, head to ee.co.uk/Gaming.