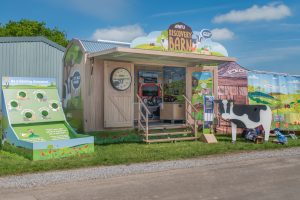 The NFU (National Farmers Union) has launched its new 'Discovery Barn' – an educational roadshow which will tour the UK taking in over 40 farming and family events to talk to children about where their food comes from.
The bespoke unit, designed and built by Bournemouth-based design and events agency Mad River,has been created as a fun place for children aged 4-9 to learn about British food farming. The NFU hopes the  engaging activities within and around the Discovery Barn will leave a lasting impression on the children it reaches, to teach the next generation about the importance of British food and farming.
Mad River created the Discovery Barn and its illustrated characters Ben and Ellie to enable children to experience the British farm to fork story in an informal learning environment. Interactive elements brought to life by Ben and Ellie give children the chance to have a go at milking with Annabelle the Cow, practice driving with a tractor experience and test their knowledge with a fun farming quiz.
Mad River is also managing the logistics and operations for all events, which includes the supply and training of staff.
NFU head of communications Sharon Hockley said: "We started on this journey 12 months ago to create a fun, visually appealing, creative, informative yet practical travelling educational show. The Discovery Barn is the culmination of a huge team effort between the NFU and Mad River and its being well-received by children and their parents who tell us how important they believe it is for children to understand where their food comes from."
Mad River managing director, Cia-Louise Coton Gater, said, "It's an honour to work with the NFU and we've had great fun working with them to create the 'Discovery Barn' and take it on the road. The unit has been awarded best stand in show at several events already which is amazing recognition for all the team's hard work."