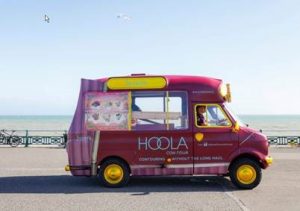 This summer, Benefit Cosmetics is celebrating staycationing and the quintessential British beachside holiday by launching the Hoola Ice Cream Van, which is touring the UK.
Beach-goers will be encouraged to visit the Hoola-inspired ice cream van where they can choose from a range of beauty touch ups including sampling the Hoola Quickie Contour Stick which launched in June.
Alongside bronzing touch ups the Hoola Ice Cream Van will give Brits the chance to pop their head through a Hoola cut out head board to receive a quickie contour from one of Benefit's con-touring experts. Fans will be encouraged to upload to social media using #nolonghaul to receive a free travel size Hoola Quickie Contour Stick.
Benefit's head makeup artist, Lisa Potter Dixon says "Here at Benefit, we're all about celebrating what makes Great Britain great! Launching our Hoola Ice Cream Van this summer and con-touring the length of the UK means we're able to provide that iconic Hoola glow to Brits without the need to travel abroad. The Hoola Quickie Contour Stick gives an easy, natural-looking contour and sculpts and defines features – it's the perfect summer essential!"