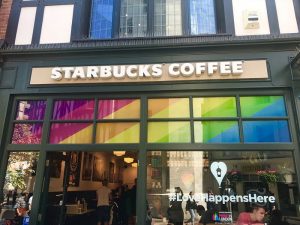 Starbucks placed 'Glam Stops' in stores in and around the Pride in London Parade route over the weekend, encouraging revellers to get glammed and glittered up for free by professional make-up artists from The Gypsy Shrine, The Queens of Glitter. The 'Glam Stops' were placed in five Starbucks stores on Saturday 8th July between 11 a.m. – 3 p.m., encouraging Pride revellers to  put the finishing touches on their look and express themselves through glitter, sequins and sparkles.
In addition, every Frappuccino bought in participating stores along the Parade route were topped with rainbow coloured heart sprinkles. The edible sprinkles were served on all Frappuccinos, creating an easily 'Instagrammable' drink, with an #ExtraShotOfPride.
This is the third year Starbucks is on board as a gold sponsor of the event. This is  part of the company's long-standing commitment to championing an inclusive environment for partners (employees) and customer of all backgrounds. Starbucks stores along the Pride in London parade route were wrapped in colourful Pride designs and are retailing exclusive Pride pin badges for £2, with all proceeds going to Pride in London to support LGBT charities across the UK.
Over 240 Starbucks partners, friends and family  joined the parade including social members of the LGBT community including, Doug Armstrong, Dan & Jon and Tia Ward. Starbucks partners joining the Parade will be marching under Starbucks #LoveHappensHere balloon.
Steve Flanagan, director of marketing at Starbucks EMEA, comments: "We are incredibly excited to be a part of Pride in London again this year to celebrate our partners and customers, and encourage them to feel pride, too. At Starbucks, we celebrate diversity and offer the platform for our partners to shine and be proud of who they are."
In 2007, Starbucks founded the Starbucks Pride Alliance to support and advocate for our LGBT partners. Today, its community is made up of thousands of partners around the world. Starbucks is also actively involved in Pride festivals around the world.