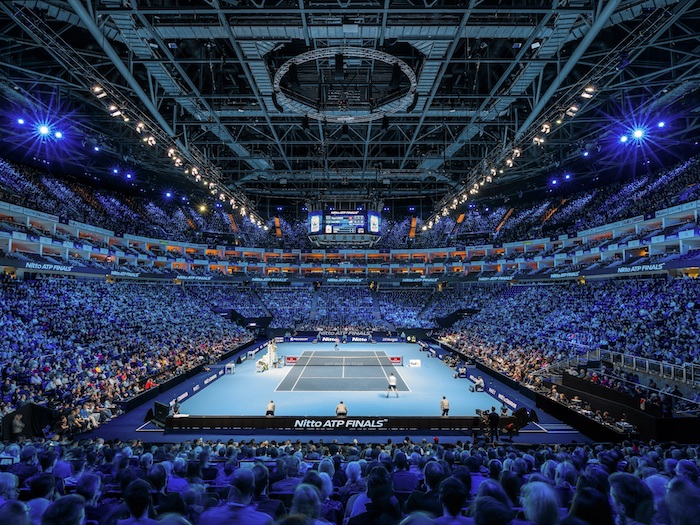 Global partnerships and activation agency Wasserman will work with the ATP to transform The O2 in London into the biggest indoor tennis tournament in the world for November's Nitto ATP Finals. This will be the tenth year that Wasserman has worked with the ATP on the tournament in London.
Wasserman's remit is to manage the in-bowl experience from concept to onsite delivery, managing the pre-match player choreography, special effects, breaks in play, audio and screen content for the daily matches, live shows, and final presentation ceremonies.
Fans will be entertained with pre-match shows complete with special effects, lighting, projections, player introductions, bespoke video content and interactive social media activities. The show continues throughout the match with the aim of providing constant excitement, interaction and thrills for the fans from start to finish, whilst supporting and complementing the action that is taking place on court.
This year will see the 2.5 millionth fan attend the event, and will feature a host of activities to celebrate the tenth anniversary of the tournament taking place in London.
The O2 event follows hot on the heels of Wasserman's work at the award-winning Next Gen ATP Finals in Milan– an innovative event which features maximum fast-paced action and four game sets where line judges are replaced with Hawk-Eye Live technology.
The 2018 Nitto ATP Finals event, which runs at The O2 from 11th to 18th November, sees 30 matches between the world's best eight qualified men's singles players and doubles teams, in a unique round-robin knockout format.
Adam Hogg, Event Director at the ATP, says: "For ten years, we have transformed The O2 into one of the most exciting and entertaining sporting arenas in the world. Wasserman's work is crucial in helping us to bring this event to life, and the team has been pivotal in helping to create a tournament which is unlike any other in the tennis calendar."
Cris Cicirello, joint managing director at Wasserman, adds: "This is the tenth year that the team from Wasserman have been lucky enough to work with the ATP in London, and in that time, the tournament has continued to deliver, giving fans the ultimate indoor tennis experience – from the gladiatorial battles to the truly heroic displays of athleticism. It's the perfect finale to a great year of tennis and we cannot wait for the tournament to get underway!"