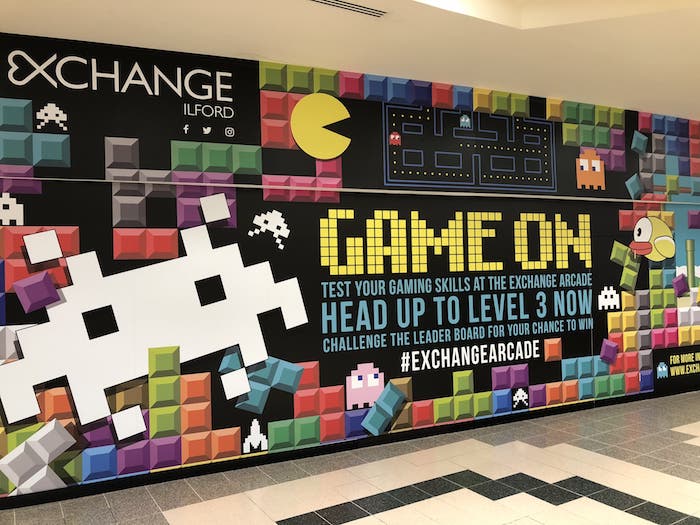 NexusEngage  has unveiled the brand new interactive campaign – Exchange Game Zone – at The Exchange Shopping Centre, Ilford.
Following the success of the campaign #MyGreatIlford, an activity that celebrated Ilford and its community through a photo contest and interactive voting station in the mall, this new activity focuses on using the same location in the mall to engage and immerse shoppers to the Centre.
Shoppers are invited to compete in a contest on some of the traditional and iconic video games of yesteryear. Games will interchange over the coming months.
Each game will last a period of six weeks before changed to a different one.
Working in partnership with the team at the Centre, NexusEngage transformed two redundant shop fronts. The one on the first floor aims to encourage footfall to the upper floor – where the game can be played. Here, colourful graphics – that are replicated on both floors, invites shoppers to interact with the games.
Participant's score will be put onto a winner's board, when the game has run its duration, a winner will be awarded a prize. The shop fronts measure 12m (w) x 4m, therefore consuming the whole of two unused outlets, thus maximising the opportunity to enhance footfall.
Shopping Centre marketing manager, Jodi Meadows, commented: "We're delighted with the implementation of this new exciting game.
We had tremendous success with the #MyGreatIlford campaign, and we want to continue to engage with our community and excite our customers, adding value to their shopping experience. The Exchange Game Zone, appeals to all ages, it's fun to play and can be enjoyed with friends and family."
Simon Ellson, managing director, NexusEngage said: "It's amazing to be working once again with Jodi Meadows and the team at Capital & Regional on this superb activity – making sure redundant retail space in the centre is used to encourage shoppers of all ages to visit this part of the centre, and reward the best players with prizes! These retro games will be recognised by many people, from Generation Z to Baby Boomers! With graphics on both floors of the centre, we're sure they'll grab the attention."