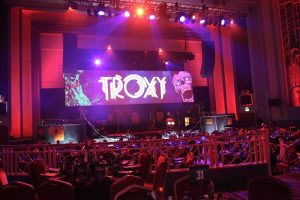 This Thursday 9th June, the Kerrang!awards will return to East London venue Troxy for the fourth consecutive year. For the very first time, the general public are invited to join in the celebrations and there will be a live element to the evening with performances from A Day To Remember and Asking Alexandria.
The change in format to the rock'n'roll awards ceremony comes as part of a multi layered strategy from global media brand network Bauer Media, in a bid to bring the fans closer to the talent and the sponsors closer to the fans.
The first half of the evening will welcome 600 celebrities, musicians, industry leaders and VIP ticket holders to walk the red carpet and enjoy the awards ceremony including a drinks reception and a three course meal. During the ceremony 700 lucky fans will have the opportunity to enjoy the awards ceremony from the upper circle. However, new for 2016, the doors will re-open at 9pm for the likes of a further 1,300 fans for an exclusive after party and two live performances.
Emily Rose Bramfitt ,senior event producer at Kerrang! comments:
"This year we felt it was time for a change. We have some incredible sponsors on board including Redstripe, Zipoo, Fireball, Ghost Vodka and Love Music Help Musicians and we wanted to give them the opportunity to directly communicate with a targeted audience. Fans can also come to the after party and brush shoulders with their idols.
"Essentially, we are attempting to run two completely separate events within the same venue across one evening. Having worked with the Troxy team for the last four years we have complete faith in them and we wouldn't have thought to pull this off anywhere else."
Troxy lends itself perfectly to this revised format, with the two floors allowing the formal dining and award ceremony to talk place on the Ground Floor, with fans watching from the fixed booth and tiered seating in the Circle above. After the awards and when the tables downstairs have been cleared, fans can join the celebrations for the live acts that are performing on the main stage.
Daniel Smith, head of sales and events at Troxy said:
"This year's Kerrang! Awards are hugely exciting and we definitely love a challenge. We love working with Bauer Media as they are not afraid to revolutionise and improve the industry and we are glad to play a part in that."
Bauer Media has plans to roll out the new format across Q Awards and MOJO Awards later this year.