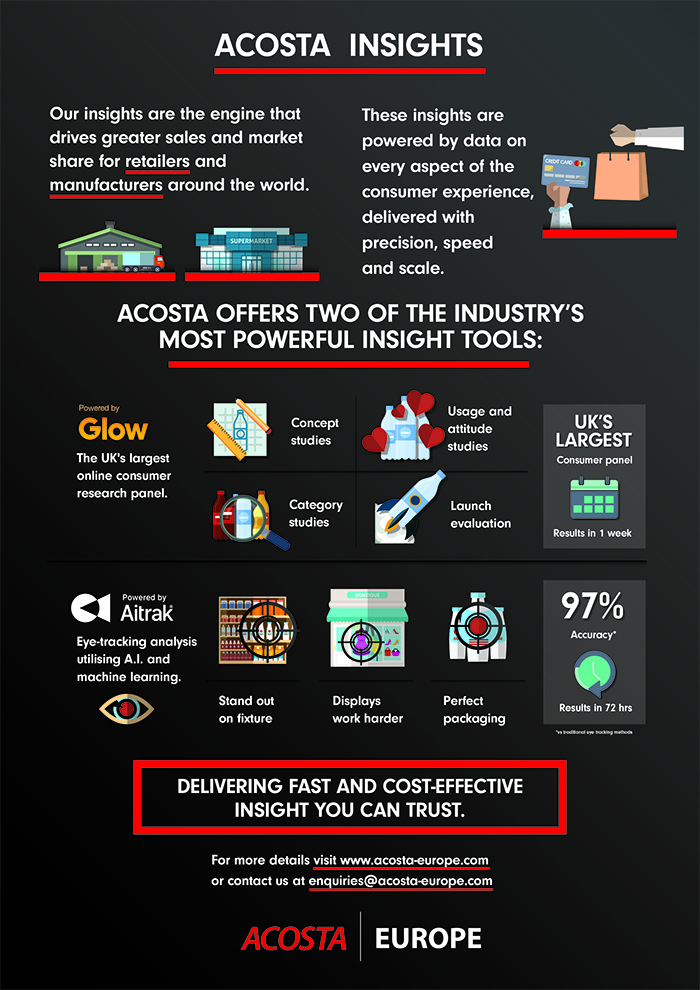 Acosta Europe, the retail sales and marketing group, has announced the launch of two powerful new retail strategy products, Glow and AiTrak, which will provide customers with insights into consumer behaviours.
Glow: Consumer testing at scale and speed
Glow is a consumer survey tool and digital monitoring system that helps marketers navigate the challenging gap between planning and feedback cycles. Glow gives brand and channel marketers the ability to generate detailed product, campaign or concept feedback within one week; much quicker than the traditional feedback cycle.  It does this through access to the UK's largest online consumer research panel, delivering results quickly and in user-friendly infographics that will provide robust insights for brand planning, and ensure the right marketing investments are made in the right channel.
"From a brand point of view, the planning and feedback cycles are too far apart, meaning that weeks can be wasted on the wrong channel strategy or testing a product," said Lindsey Hills, category and business development director at Acosta Europe. "Glow's powerful and intuitive software, combined with the experience of the Acosta team, means we can help our clients make informed decisions through real-time consumer analysis and ultimately saving spend by tailoring plans with more accuracy and speed. This is vital in today's complex and rapid retail industry, with new products reaching consumers faster than ever before."
AiTrak: Precise and rapid eye tracking technology
Aitrak uses the latest advances in artificial intelligence and machine-learning to help brands and retailers maximise the visual impact of their designs, store display and advertising creative to attract the attention of shoppers
"Brands and retailers spend thousands of pounds designing storefronts, windows, merchandising displays, product packaging, and advertising creative." said Steve Rolfe, General Manager at Acosta Europe. "But how do we know what customers are really seeing in those first few critical seconds? Aitrak provides all the benefits of traditional eye-tracking studies but with results in minutes, not days."
"Aitrak is a powerful tool for brand and channel marketers." said Lindsey Hills, Category and Business Development Director at Acosta Europe. "Combined with the expertise of the Acosta insights team, we can now remove the guesswork and subjective opinions that can sometimes delay or misinform marketing and design decisions. Aitrak can be used to analyse and optimise visual designs at every stage in the customer journey."