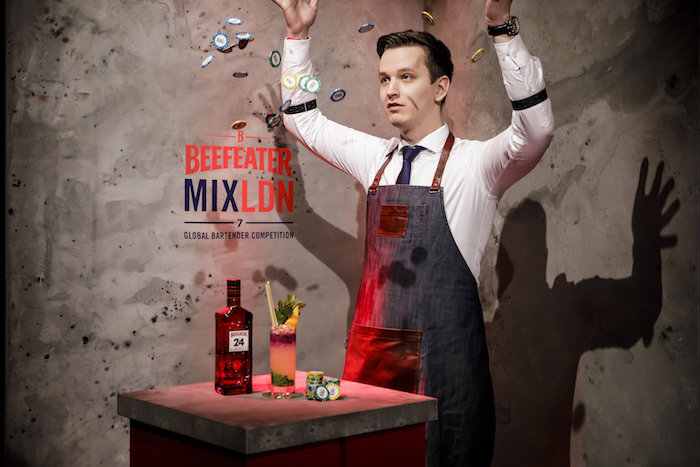 Pernod Ricard's Beefeater gin has  teamed up with Amplify, for the fourth time,  for the Global Final of the brand's annual Beefeater MIXLDN bartender competition.
The Global Finals see national bartender champions go head-to-head to be crowned Beefeater MIXLDN 7 Global Champion. Taking place in London – the home of Beefeater – and now in its seventh year, the Beefeater MIXLDN finals offered an educational three-day experience.
Starting on 5 February and running until the Grand Final on 8 February, Amplify's activations used insights from current on-trade drinks trends to identify what makes consumers tick when looking for their perfect drink.
These insights helped develop the 'Made for You Challenge', which tapped into the trend for bespoke cocktails whilst playing on the Negroni's classic heritage. Taking place at The Beefeater Distillery, the challenge was judged by Alessandro Palazzi from Dukes, Hannah Lodge from BarChick and Emma Stokes from GinMonkey.
Amplify also helped shape a zero-waste experience and surprise cocktail pairing challenge as a way of encouraging sustainability within the industry. Working with sustainability-driven restaurant, CUB, finalists were given an educational experience aimed at making them more waste conscious. Competitors were then asked to create a cocktail paired to a sustainable dish from Doug McMasters, CUB's Head Chef, and MIXLDN 6 Global Champion Timothy Ching from Hong Kong.
Beefeater's global senior brand manager, Laura Boot-Handford, commented: "Amplify have once again nailed it with a world class event that heroes our bartender finalists, showcases the best of Beefeater's London and cements Beefeater MIXLDN 7 as the  largest gin-based cocktail competition in the world."
Amplify's Founder, Jonathan Emmins, added: "Inspired by London's unique cocktail scene, the Beefeater MIXLDN 7 global final event fuses and juxtaposes modern and historical drinking trends. End result? Finalists can take the latest drinks trends back home with them, wherever in the world that 'home' may be.
"We've been lucky enough to collaborate with Beefeater on MIXLDN since in 2014 and we've enjoyed making sure the competition and platform build in creativity and experience, with this year's focus on current trends and sustainability."
The MIXLDN 7 Global Final Event was a collaborative team effort from a number of wider agencies, including Amplify, SteelyFox (Consumer PR), Text100 (Trade PR), SocialGram (Social Media) and Create Cocktails.