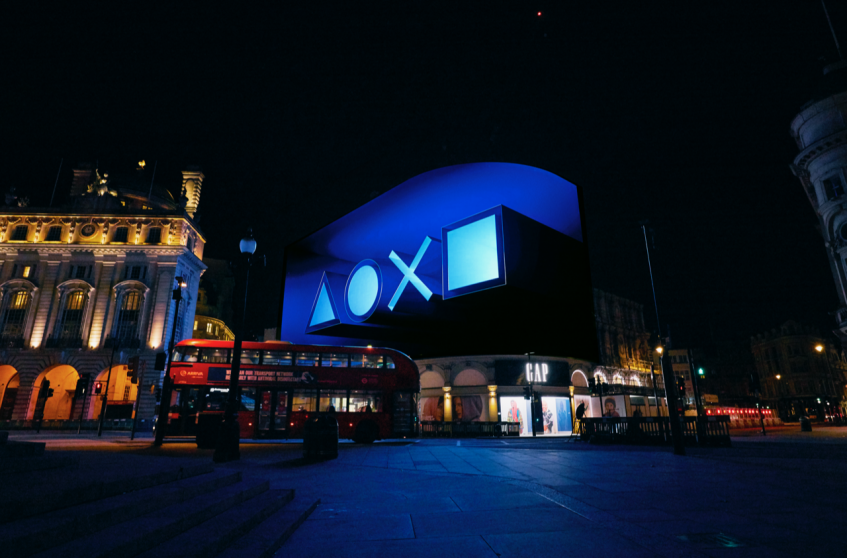 Global brand experience agency Amplify is behind the multinational projection work that has celebrated the launch of the PS5. The team created vivid visual dramas in 25 global locations. In London the work included a 10-minute show at Piccadilly's iconic screens on 19th November. The work has entwined PlayStation's console with many world-famous city landmarks and billboard spaces using projection creating content that was collectively brought together in one dramatic video.
The 'Play has no limits' campaign has been seen by many as a major step forwards from activity hinted at by PlayStations PS4 launch back in 2013 – when London's iconic Oxo Tower was borrowed as a lit up controller symbols display tower my Manning Gottlieb OMD and Talon Outdoor.
Ahead of the PS5 launch in London those well known controller symbols were again put to striking use this time by Red Consultancy, the PR and experiential agency who landed the competitive pitch for the PlayStation contract in April this year. Red combined forces with Transport for London in securing an unmissable location for the controller symbols – around the underground station at Oxford Circus.
https://twitter.com/PlayStationUK/status/1329010412948508672
Red Consultancy stated "PlayStation has taken over Oxford Circus, replacing the iconic London Underground sign and turning it into the PlayStation shapes. The Oxford Street and Regent's Street intersection provided the perfect spot for us, with the 'roundels' at the four entrances changed to a triangle, square and cross in addition to the usual circle."