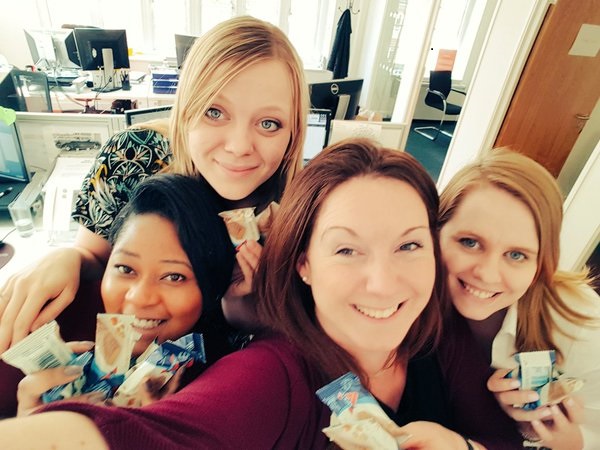 Atkins partnered with gemsatwork to target fitness conscious office workers and introduce them to samples of the new Atkins Fudge Caramel bar to drive trial and increase awareness of its high protein, low carb composition.
The gemsatwork team identified the offices in their network which gave the best representation of Atkins' target consumers and then gave the ambassadors in those offices the chance to take part in the campaign and treat their colleagues to a free sample.
50,000 bars were then delivered to over 100 offices, with the ambassadors distributing the bars to the desks of their colleagues for them to try. Fitness related prizes were offered to provide an additional incentive for consumers to leave their feedback to help Atkins understand consumer's perceptions of the bars and their intent to purchase.
The aims of the campaign were to Increase awareness of the Atkins range as a low sugar, low carb healthier snack, communicate location in store and encourage first purchase through couponing, gain consumer feedback on perception of the brand and where they would expect to buy in store, via the online survey which consumers were directed to upon receiving their sample
The post-campaign evaluation is not yet complete, however in terms of questionnaire responses the campaign is one of gemsatwork's best yet, with just over 16% of consumers going on to complete the survey. With nearly two-thirds of consumers saying they intend to purchase Atkins Fudge Caramel bars after trying them the indications for first purchase are good, though the voucher redemption figures will take a while to process.
Mia Gambrell, Atkins comments;
"Knowing that our Atkins bars perform well in taste tests, we were keen to get our new Fudge Caramel bar into the hands of the consumer, to encourage trial and communicate the bar's high protein and low carb and sugar content to a fitness-conscious audience.
gemsatwork helped us to profile this audience and develop a post-trial questionnaire so that we could gain a better understanding of how the Atkins brand is perceived, and purchase intent after trial. We've found this style of sampling to be particularly cost-effective, as well as providing valuable insight into the thoughts and behaviours of our consumers. gemsatwork were extremely professional in their management of this project, and we would certainly consider this sampling format for other products across our portfolio"
Matthew Huntly, gemsatwork adds;
"We are delighted to partner with Atkins on the Fudge Caramel campaign, utilising demographic, spatial and attitudinal targeting to maximise the impact of the sampling activity.
Receiving mountains of requests from consumers within our network for healthy snacks and meal ideas it was clear that these bars would go down a treat; and that has definitely shown to be the case.
The Atkins range is full of high-protein, low-carb snacks and meal solutions and we look forward to helping Atkins build greater awareness of the range over the coming months and beyond"