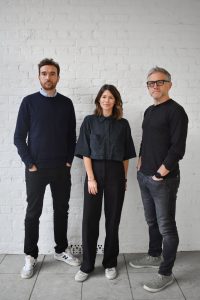 Avantgarde, the brand experience agency, has announced the promotion of two senior team members, as well as the hire of a new Global Business Development Director.
Stuart Bradbury, who has held the role of MD of Avantgarde London for more than 13 years, has been promoted into the position of Executive Director of Strategic & Creative Chapters, where he will sit on the Management Board and oversee all international MDs.
Having started to take a leading role across the international offices over the last year, the promotion to a global management level will now see Stuart become responsible for overseeing them, as well as supporting Avantgarde Group growth and overall direction. He will report directly into Avantgarde Group's CEO Marc Schumacher.
Rachel Lewandowska, who has been Client Services Director of the London office since September 2022, has been promoted to Head of Avantgarde London. Taking on many of the responsibilities from Stuart's previous role, Rachel will also continue to be the client services team lead and will have oversight of all clients at Avantgarde London.
George Perry has been appointed into the role of Global Business Development Director for Avantgarde Group, coming from his previous position as Business Development Director at Jack Morton, which he held for just under three years. George will be reporting into Stuart Bradbury and will be responsible for global new business, including group strategy. He will also be the business development team lead.
Stuart Bradbury, Executive Director of Strategic & Creative Chapters says: "As I take on the role as Executive Director for Strategic and Creative Chapters within the Avantgarde Group, I am delighted to announce the promotion of Rachel Lewandowska to the position of Head of Avantgarde London. Since starting at the business, Rachel has played a key role in driving our client services department while implementing our people and culture strategy. Her superb leadership and wealth of experience has already had a positive impact on the business, and I look forward to supporting Rachel as she leads Avantgarde London into its exciting next stage of development and growth.
"I am also thrilled George Perry has joined Avantgarde as Global Business Development Director. George joins the Avantgarde Group with an abundance of international new business experience. Directing our global new business strategy, George will provide strong commercial and sales leadership while building on our reputation as a pioneering Global Brand experience agency."
Rachel Lewandowska, Head of Avantgarde London says: "The phenomenal brand experiences we're creating and delivering globally demonstrate how the industry has bounced back with force. In London, we are hugely influenced by the cultural and creative richness we're surrounded by. I suppose it gives us a slightly rebellious streak. I'm delighted to be a part of this and head up our London office."
George Perry, Global Business Development Director for Avantgarde Group adds: "Avantgarde is a giant in the brand experience space, growing from strength to strength. I am delighted to have joined the team to lead global new business and be a key part in the continued growth of the company. This move marks my first step into a global role and a big step up in my career."