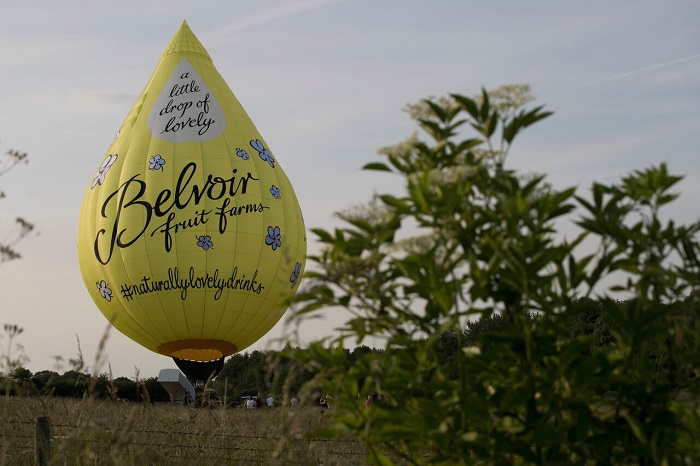 Throughout summer  the Belvoir's Little Drop of Lovely hot air balloon will be flying through the  skies at food and countryside festivals, including Bristol Balloon Fiesta.
Belvoir cordials and whynot! thinkpeople have worked together to design and build a bespoke droplet shaped hot air balloon and a support mobile sampling area, where everyone can enjoy a drink of Belvoir's products while watching the Balloon take flight.
The Little Drop of Lovely campaign will be visiting ten festivals this summer and 12 Tesco stores for outdoor sampling. A special in-store neck collar on bottles of the elderflower cordial will carry a competition to win a luxury weekend getaway to the Bristol Balloon Fiesta, with flights in the balloon. Social media will support and celebrate the activity.
The balloon launched on the 14th June, from the Elderflower fields at Belvoir Fruit Farms, Bottesford, Leicestershire.
Nigel Clifton, executive creative director of whynot!, said: "We wanted to celebrate how Belvoir cordials can be the perfect drink at every occasion.  We wanted to put the drink into people's hands and give them a lasting memory of that moment.
Adding A Little Drop of Lovely, to their day, their festival experience and where they shop was our solution.
The Belvoir balloon is the perfect visual icon to deliver that thought across the UK."
"We're so excited about finally getting our stunning new balloon airborne," said MD of Belvoir Fruit Farms, Pev Manners.
"We believe it will enhance our presence at a series of events and shows over the summer, and engage the consumer more fully with the Belvoir brand. We'll interact with a larger audience wherever it is flown, really giving them something to remember us by and hopefully prompt them to enjoy more of our lovely drinks. And personally, I'm really looking forward to checking on the progress of the elderflowers from the air next year to see if they're ready for harvest"
Whynot! can be found in our Online Directory.