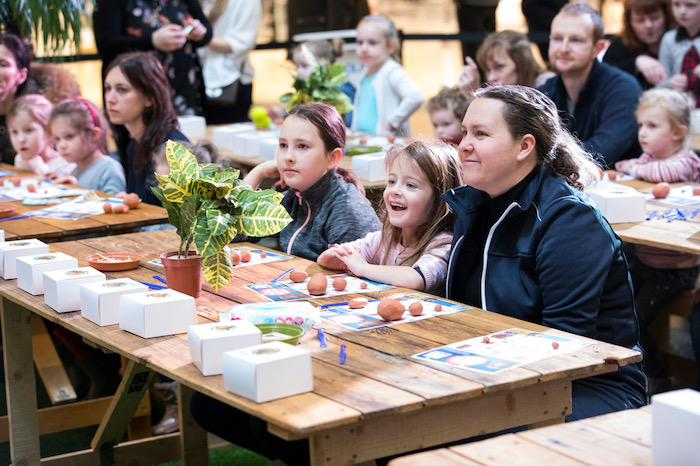 To celebrate the release of the prehistoric comedy adventure film, Early Man, an engaging augmented reality character trail was launched at Bluewater throughout February half-term.
The experiential activity formed part of Landsec's exclusive partnership with Aardman and StudioCanal, to bring Early Man to life across its portfolio of retail and leisure destinations.
Following the launch of the film earlier this year, Bluewater hosted a series of unique in-mall experiences for guests, including the augmented reality trail which allowed visitors to meet the characters and download content via the Aardman app. A film character modelling workshop, Early Man rock installation and photo opportunities completed the experiential line-up of activities which was further supported by an extensive media campaign within the malls.
Over 7,250 guests took part in the modelling workshops and character trail at Bluewater, and the experiential activity was also widely shared on social via Bluewater's Facebook and Twitter accounts. In total, the activity reached over 230,000 people and attracted over 81,000 video views.
Sharon Smith, commercial partnerships manager at Bluewater, said: "We are proud to have hosted this exclusive partnership and to have worked with such an iconic brand as Aardman. We always aim to offer something exciting for our guests and all the elements combined brought such an immersive experience to our destination, and one that was enjoyed across all generations. This latest partnership demonstrates our commitment to creating unique, memorable experiences for guests that appeal to today's consumers, confirming Bluewater's status as Europe's leading retail and leisure destination."
Sean Clarke, head of Aardman rights and brand development, said: "A high calibre location like Bluewater provided the ideal backdrop for us to bring our film creations to life. We are delighted with the response from consumers, and the large numbers of people who engaged in the wonders of stop-frame animation across Landsec's portfolio and through our bespoke app."
In November 2017, Landsec also embraced digital technology to deliver a superior retail experience through the launch of an online shopping portal, providing guests with an opportunity to research and purchase products from a range of Bluewater retailers.