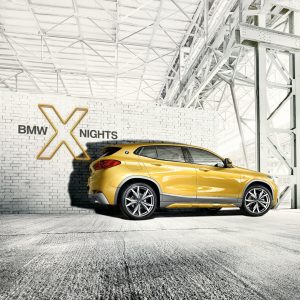 TRO has been appointed to deliver the national consumer launch of the new BMW X2, the automotive manufacturer's Sports Activity Coupé (SAC).
Aimed at an adventurous target audience, TRO has devised a bold experiential campaign for the X2 consumer launch, which sees a partnership between BMW and top bouldering centres across the UK.
Entitled the BMW X Climb, the roadshow campaign comprises five locations nationwide over the next two months, each featuring integrated activations within the urban climbing centres. Activity in the respective venues culminates in the BMW X Night, which features key bouldering influencers performing demonstrations and tricks against a backdrop of lighting and UV projections – along with DJs from BMW's Global Radio partnership.
Emily Latham, experiential and sports marketing executive at BMW UK said "The new BMW X2 is designed to allow people to go beyond the everyday commute and get adventurous. TRO demonstrated a deep understanding of the model's target audience and has devised a campaign to really get under the skin of a whole new demographic. The campaign is an exciting precursor for our Snowbombing sponsorship, and we're very much looking forward to engaging with consumers across the country."
Laura Burroughs, senior account manager at TRO also commented "We were incredibly energised by BMW's exciting brief for its new X2. Our nationwide activity has experience at the very heart of it, and we hope to realise great brand affinity through a campaign that fully resonates. Previously reserved for expert rock climbers, younger audiences are now using bouldering centres as a social alternative to a gym, so we hope to reach consumers in a really effective way."
The BMW X Climb activity runs from 23rd March to 15th April at bouldering centres in Sheffield, Bristol, Edinburgh, London and Newcastle.