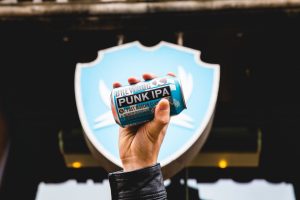 Independent craft brewer, BrewDog, is bringing its craft beer revolution directly to the people of Manchester from next Thursday 12th July. With help from brand experience agency Amplify, the Scottish brewer will be setting up an independent Punk State in the city centre, from where Mancunians will be able to grab free cans of its flagship beer, Punk IPA.
Punk IPA has been the best-selling craft beer in UK supermarkets for the last three years. In just over a decade, the Aberdeenshire brewer has transformed from two men and a dog brewing small batches in a garage, to shipping a record 65 million bottles of beer to over 60 countries annually. This growth has been powered by its record-breaking Equity for Punks crowdfunding initiative, which has seen the brewery raise over £60 million since 2009 from more than 82,000 passionate craft beer fans across the globe.
BrewDog will be setting up its Punk State in the form of a roadblock at Spinningfields on Friday 13th and Saturday 14th of July. Visitors to the State will be issued with a Punk Passport and visa stamp, a cold can of Punk. Foot-operated can crushers will also be available on site in compliance with the brewery's no-wastage policy. The Punk State roadblock will be operational from 1-7pm on Friday 13th July and 1-6pm on Saturday 14th July.
#PunkState: From 3pm on Thursday 12th July, BrewDog's chilled vans will be touring the city and dropping cases of cold Punk IPA to those deemed deserving. Mancunians who tweet @BrewDog using the hashtag #PunkState with their reason for why they should receive beer stand a chance of being visited by BrewDog's street team. The #PunkState tour will run until 9pm on Sunday 15th July.
 In addition to the roadblock and beer drop offs, from Thursday 12th July to Saturday 14th July, Mancunians will be able to enjoy Punk IPA across the city. The brewery hopes this 'mass conversion' exercise will bring in new long-term supporters and advocates of the craft beer movement. There are over 30 venues participating in Punk State – offering fresh cold Punk IPA and other activities, these include:
Dockyard Spinningfields
Gas Works
Dockyard Media City
Flour & Flagon
The Font
Wetherspoons Piccadilly
O'neills, Printworks
Jimmys BBQ
BrewDog launched its first Manchester bar on Peter Street in 2012 with a 'crap beer amnesty'- allowing Mancunians to swap a can of mainstream lager for a Punk IPA. Over 300 cans were swapped at launch, and the surrendered cans were destroyed and recycled. Later this year, the brewery will open its second bar in Manchester in the University Green development. The site will feature an on-site BrewPub that will produce small-batch beers exclusively for the bar.
BrewDog's cofounder James Watt said: "Punk State is the culmination of the craft beer revolution. We are putting Punk IPA directly into the hands of the masses and placing faceless megabreweries on notice. Manchester has been one of the cradles of the UK's ever-growing craft beer movement and we hope Punk State helps add to the ranks of the passionate fans."
Amplify's founder, Jonathan Emmins, said: "BrewDog shares Amplify's love of consistently challenging conventions so this has been a fantastic all-round collaboration and experience. Which other brand gives you the chance to declare a Punk State in some of Britain's most dynamic and vibrant cities?"
Over the next four weeks, BrewDog's Punk State will be declared in Bristol (19th-22nd July), Birmingham (26th-29th July) and Liverpool (3rd-6th August).